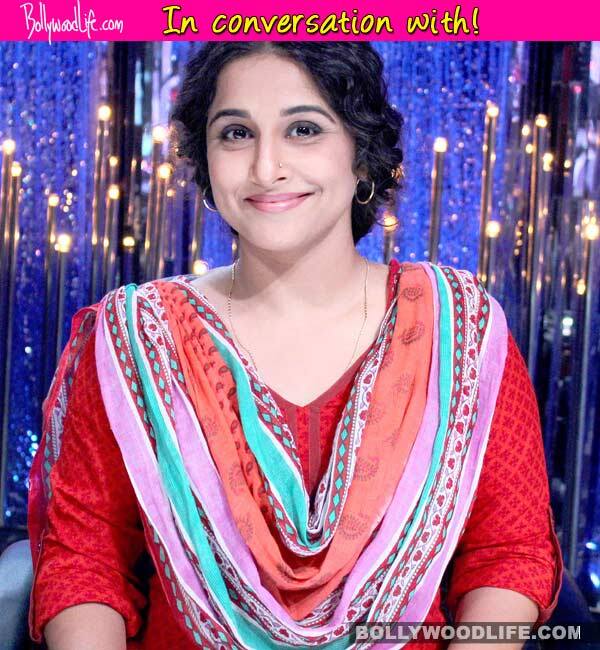 As Bobby Jasoos hits theatres tomorrow, the film's leading lady  spent some quality time with us discussing about feisty  Bobby and life in general
She has enthralled us as Krishna in Ishqiya. She has made us bite our fingernails as Vidya Bagchi in Kahaani. She had captured the fantasy of  every movie-goer as Silk in The Dirty Picture. Now she is back to make us root for Bobby in Bobby Jasoos.  Ahead of her film's release, the lovely Vidya Balan got chatty with us and talked about everything under the sun from films to relationships and much more.    
There are lot of references for male detectives in the past, but female detective is something completely new and finding references for that would have been really difficult
There are quite a few references for Jasoos, but I never really looked for any references for the role. Over the years I have seen a lot of films, TV shows like Karamchand and read detective books, so that was enough for me to prepare for the role.(Coughs) More over the script was complete in itself, so I didn't have to do much research. Sanyuktha Chawla-Shaikh, the writer of Bobby Jasoos, would have done a lot of research for the script. I spent lot of time with the director and whatever I wanted to know about being a detective I got to know from them. Before commencement of the shoot, I even randomly called a few detective agencies and made fake cases just to know how a detective agency works and what kind of questions they ask.  So that was the amount of reference which I took for my role.
Are you a big fan of detective stories?
Not really. That's why I really liked the script of Bobby Jasoos. Being a detective story, it has an interesting premise but it is also a human story. It is also a story of girl from small mohalla of Hyderabad, whose dream is to be known as a hot shot jasoos of her neighbourhood. She has a very simple aspiration. She isn't saying that she wants her nationwide or worldwide acclaim. So that is something I found refreshing about Bobby Jasoos. And unlike other detective films, which have this thriller element throughout, Bobby Jasoos also has thriller elements but is also a lot of fun. Bobby is quite a fun loving girl…she is…she is kind of a fire cracker..she fights,she laughs but she never cries. She is very spunky and lively. That adds a lot of colour and also the old city of Hyderabad has a very distinct look,culture and language.
When your different disguises started coming out in public, what was the first reaction of your family, especially Siddharth?
They couldn't believe it. But they all loved it. They knew I was shooting for a film called Bobby Jasoos, but neither my parents, my sister, Siddharth no one knew what I was upto. So when photos came out in papers, my father was the first one to see it. He kept looking at the picture feeling 'I know this person, but I am unable to figure out who it is'. Then he read the by-line which said Vidya Balan for Bobby Jasoos and then I started getting calls from Siddharth, my father and everyone. All of them were completely surprised and very pleasantly so.
In a media report, it was mentioned that you had tried on approximately 122 looks and then short listed to 12. Is that true?
I don't know if 120 is the real number. I didn't sit and calculate, but we did lots of ways of style. So all you know, the number might be true. Some of the disguises required to look closer to Bobby and in some disguises I need to look completely different.  Even the male disguise needed to look different from each other. It was not like donning moustache and beard for five times, because every time Samar wanted me to look different which is why we arrived at disguises like the peon and the jyotish and the Maulvi..(Coughs) and the beggar and the chudiwala. . And the female disguises were also different like the producer who is very over the top. So we put in a lot of effort but it was very enjoyable.  It is the biggest high for me as an actor as in every film I try give the character a distinct look , also I had the opportunity to do that. But here within one film, I was getting this opportunity.  My makeup artist Vidyadhar Bhatte , director, Dia all of them put a lot of effort in trying to make me look perfect, small addition and subtractions. People consciously kept trying for something different and at the end of the day some said we have got 12 very good disguises, so we don't  need to put more effort.
Did you ever think playing a female detective with 12 different roles is risky? Ever had doubts if audience would accept it?
No. Not at all. Bobby Jasoos is the kind of film which I would watch it with my family. It is a nice family  entertainer (Coughs)..These are disguises, these are not full-fledged roles. And I actually never think of risk. After the poster came out, people said 'Oh My God! You have gone and done this!". But I never thought of it like that. I think…umm…I think may be sometimes I am not aware of the fact that it's a risk, works in my favour.
How was it working with Dia Mirza as producer?
It was really great. We have worked together in two films( Parineeta and Lage Raho Munna Bhai) as actors. We did not have scenes together but we used to meet in sets. She is a very warm person. I have always had…what can I say, I won't say friendship over the years, its that warmth between us.
You have donned 12 disguises in the film. If we ask you to be biased, and pick up one avatar in which you had real fun and one disguise which was the toughest to pull off, which one would it be?
The toughest one was the Maulvi. It wasn't really tough, just that initially I was a bit awkward as they put things in my nose to make it look wider. And I had to run a lot. So when I ran and took deep breath, it would just go in or something like that. There was wig, the eyebrows, the moustache   and that thing in my nose. I think it was just that there were too many foreign things for me and then there was the bodysuit and running in that. I wouldn't say tough but amongst all of them it was the most challenging. And the most fun was the jyotish, that has me in a half balding wig and a moustache and fake teeth. I enjoyed it a lot cause I thought it was very funny.
Was there any incident where people would recognise you while shooting ?
No. Not at all. Not once  or twice but it happened so many times with us .I remember the first few days of shoot I was in that Maulvi disguise with the turban and all, I was standing outside with the rest of the unit and slowly people where gathering . In India wherever you see a camera, people gather.  So they were asking the team members, what are you shooting for. They were like 'Acha..Hindi film..Bobby Jasoos..Kaun hai actor?'. When the crew told Vidya Balan, the people said,"Acha, Kabhi aa rahi hai?". And I was right in front of them. So that was the first incident  but there were many incidents like that.
Has any female actor has caught your attention in recent times, doing something unconventional and out of the box?
I think Kagana. Yeah. I have unfortunately not watched Queen but I heard she is unbelievable in it. I have always had liking for Kagna because I remember watching Fashion, that must have been a few years back, and I thought she was incredible in Fashion. I think she is really bold.
Has the remuneration for female actors changed in the industry?
Remuneration has changed. Yes. But if you compare it what the men get ,it is still very very different. And I think lets not compare. We will get our due. We are slowly moving towards that but I just think in the so called typically commercial films, women definitely need to get paid better because they are also contributing to the success of the film. But for some reason, in commercial films there is most disparity .
Ranbir Kapoor's Jagga Jasoos is also coming up. Why do you think Bollywood has got a sudden affinity towards detective stories?
Because there are too many scams, too many ghafalas. And I think people are now wanting accountability of their politicians, there is the right to information act. So they want to unearth all these scams  and wrong doings. Detective stories have always been around, but it hasn't really fascinated the audience. Suddenly there is affinity towards detective films. Remember the time when three or four Bhagat Singh films came at the same time, so you never know when it trends.
Are you worried about the comparisons between Bobby Jasoos and Jagga Jasoos?
Bobby Jassos is coming first. (Laughs) So they need to worry about comparisons..we don't.
Is it true you wanted to spy on Big B ?
Yeah. I think Mr Bachchan has that aura of mystery around him .He has been in the industry for 40 long years.  Generations have watched his films. I remember the promo of Sarkar, where you just see waving of a hand. I didn't need to be told who it was. Even if I was not told it is Amitabh Bahcchan, I would recognise the hand. So we know everything about him and we yet don't know so much about him.
Have you ever felt like spying on Siddharth?
I get to know whatever I need to know…we are staying in the same house.(Laughs).  But you know what I would like to see him at work . He has not seen me at work, I have not seen him at work.  Actually don't want to spy, but I definitely like to…may be I will have to spy(Laughs)…I want to see if he loses his cool, how does he deal with people.  I don't know that part. I only hear from his colleague but  I would like to see it personally.
How do you react to the recurring rumours about your pregnancy?
I laugh yaar. I find it damn funny because if it is a pregnancy, you know its not humanly possible, I got to be a super woman, I can't just get pregnant month after month. Its not that simple. It takes nine months to go through a pregnancy.  Every month they will say pregnant and I will say not pregnant. Again they will say pregnant and would say not pregnant. So I just find it damn funny..you know really funny.
Are you planning to start a family yet?
 I would definitely let you know.(Laughs)..So that you can be there when I am planning.
Do you think the pregnancy clause in film contracts fair?
I think its absolutely fair. In every other job you can continue working. But here since  you are seen and your appearance changes during the pregnancy, you don't want to jeopardise the film  by looking them..and you known  asking them to compromise by shoot in only certain angles, you won't be able to walk or run properly. I don't why would a women want to do do while shooting…she would like to make things easier right? I think pregnancy clause is only fair.
There are lot of heroines who desire to work with the Khans. When do we get to see you in a film with the Khans?
When you get to see them working with me.(Laughs). There has to be a script, which has enough for me to do, which are exciting to me. I have never, you know looked for films so that I can act with a certain actor. I have never planned my career like that. I love working with first time directors, first time producers, new actors. I don't plan my career like that. And I am very happy with the kind of work I am doing.
Have you watched any of the Khans films and thought you could have done that role?
No because I never watch many films. So I don't know. Plus I would do the role only if it excites me. I would not go for boring roles.
When a film fails , do you think what went wrong with the film?
No. I can't . I am too close to the films I do…I can't have that sort of objective, maybe five years down the line. But I think we did everything, we tried to tell a story , obviously must have failed to connect with people someway. But I don't think I could find what was missing in films which don't work.      
In an industry where they say you are as good as your last film, does it affect your credibility when a film fails?
I think credibility is built over years and not with just one hit film. For newcomers, you are as good as your last film. Otherwise every actor goes through great successes and failures. Obviously every film will not do same kind of business, so it doesn't really affect either your credibility or your stature. I think credibility will be questioned only during a very nascent stage of the career.
What are your worries as an actor?
 I have no worries . I think over the years the offers have only gotten better. For past seven years I have been doing one film at a time and one film a year max…I like my pace of working. That allows me to do a film with complete honesty and involvement and happiness. And then also take time off and do other things. So I don't have..thankfully I have gone past the stage where a while ago where I felt you know really pressured to do certain things. So thankfully there are no insecurities in me. I am very secure about my relationship with my work.
Did it feel odd romancing an actor younger than you?
When you are romancing, you don't think about age (laughs). So you don't think of these things actually. You don't think whats the age of the person or how much experience. They are just actors and you are playing a role and the age gap doesn't matter. Romances happen between all ages of people. Even in terms of chemistry..chemistry is about how the actors respond to each other. I remember in Ishqiya, people really loved my chemistry with Naseer Saab who is much much much older than me. So I don't think age gap matters.
If you had to spend a entire day in public without anyone recognising you, what disguise would you choose and where would you like to visit?
It depends on how good the makeup artist is. (Laughs) But I think I will love to be a bus conductor and travel all over the city in that one day. I would also like to visit the VT station cos I went to Xavier's and spent a lot of my years there.
You stated that you get bored very easily. Does that apply to your marriage as well?
No…not really. I don't think we have faced that. We don't do we same thing over and over again. I don't think he has had to experience my boredom. I complain to him sometimes. I complain to you all also. (Laughs).
Which of your movies is Siddharth's favourite?
I think…umm…I think Kahaani is the one which we have watched a number of times. Then there is Parineeta. You know co-incidentally was his first film at UTV and my first film. And we didn't meet over there. But I guess the universe was already conspiring.
There are rumours that there are cold vibes between you and Sujoy Ghosh after you walked out of his film. Is it true?
Oh no. I haven't met him to know if there are any cold vibes. But everything is okay from my end. Unfortunately I couldn't do the film due to health reasons. And he understood that. But I think the media wants us to be angry on each other or something like that.