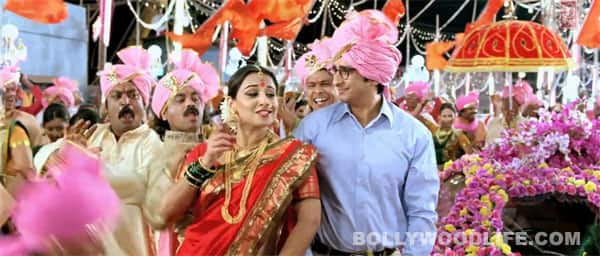 An animated Vidya Balan shows off her thumkas in the latest number from Vidhu Vinod Chopra's production Ferrari Ki Sawaari. The acting powerhouse croons and requests that she should be allowed to go. But where? We wonder!
We watched Vidya Balan's lavani song Mala Jau De from Ferrai Ki Sawaari and liked it. We translated the thumping number word by word, literally and quite hurriedly since Vidya kept insisting that she should be allowed to go. Much to our dismay the entire song therefore got lost in translation. Take a look. You might as well enjoy our desperate attempt and an unusual creation!
Yeh..mere marad ka mijaz bhari
Vaada kar ke hai laya Ferrari
Dekhe hai poora koliwada
Aata thoda toh bhaav mala khau de
Mala jau de
Mala jau de
Mujhe jane de haan..
Mala jau de
My man's attitude is heavy
Promised and got me a Ferrari
Watching the entire Koli clan
Now let me eat some cost
O let me go
Let me go
Let me go!
Main jidhar bhi jaoon
Sab ko ungli pe nachaoon
Patli gali watli
Mujhe haath nako laoo
Wherever I go
Everybody I make dance on my finger
Narrow lane leave
Me hand don't touch
Aise chappan hain
Line mein chhore
Kaiko tujhko hi tochan dilaoon
Like this 56 are there
Queued up guys
Why only you injection I give?
Kaisa aashiq tu
Total anari
Pyar mein bhi jo
Maange udhaari
Jaal phenke hain
Kyon baari baari
Chal ye natak tera
Aata rahu de
What lover r u?
Total fool!
In love also who
Asks loan
Net you have thrown
Why time to time
Go this drama of yours
Now let it be!
Mala jau de
Jau de naa..
Let me go
Allow me to go….