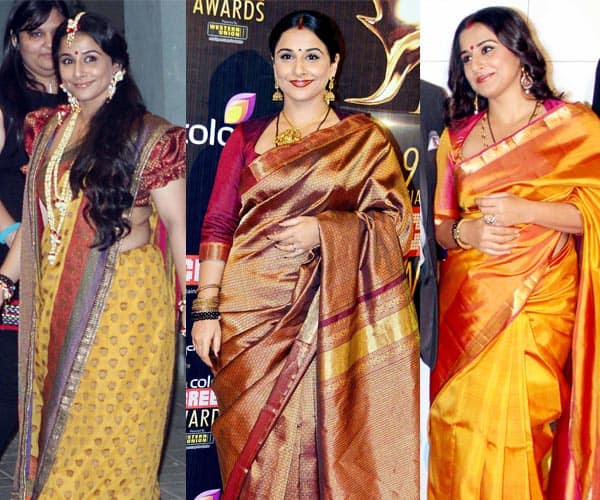 The actor-wife of the other SRK may be winning awards every year, but her style statement will take home no trophies
It's a saree state of affairs for the new Mrs Roy Kapur. Vidya Balan, who recently married her very own SRK, Siddharth Roy Kapur in a quiet family wedding with no band, baaja or brouhaha (yes, there was a baraat, which arrived in a bus), seems to have expanded her…err…horizons considerably.
While rumours that she is on a weight-shedding spree have obviously no basis in reality, the stiff and extremely voluminous sarees make it even more evident that marriage has indeed made her bloom. She looks delightfully happy, glowing with the bliss of being a Mrs, but it looks as if she has decided to stoke up on the calories and forget about fitness or any sort of figure, unless it is that of a Mother Goddess, billowy and full-blown, leading to stories of her being preggie long before she actually announces that she is.
And designer Sabyasachi Mukherjee has cottoned on to that perfectly well. His sarees, that VB wears so elegantly, are gorgeously rich and delectably traditional, with the requisite Sabya tadka, of course. We want! Vidya has been sweeping awards in every event recently, as she has over the last few years, and making an equally sweeping statement as she bundles up on to whichever stage it may be – her pallu trailing hugely behind her, her pleats hitched up and showing pretty ankles in woefully clodhopper footwear.
Believe you us, we love the sarees, we love Vidya, we love her acting and, most of all, we love the way she and husband Sid discreetly hold hands under all those yards of silk as they sit to watch the show they are at together. But we certainly don't love the way Vids is widening. Get with the programme, VBRK, don't you know that size zero may be out, but fit is far better than fat!
ALSO READ: Vidya Balan to Vidya Balloon – the mega transformation of the Kahaani actor