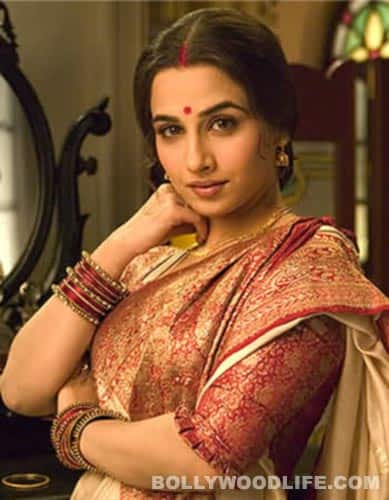 skip advertisement
From being pleasantly plump to ballooning all the way to VERY large and with that, portraying the best dirty pictures we have ever seen – Vidya Balan has been grabbing our attention for her amazing acting talent. And if that's not enough, the lady is always in the news for her much-talked-about circularity!
We love Vidya Balan, absolutely unconditionally! The kind of talent she has and the spontaneity she displays as she transforms into a range of different characters in her movies make us adore Vidya even more. But there's something inherent about our fave star's personality – on screen and off it – that makes you forget and forgive the innumerable faux pas she commits in terms of her disastrous fashion sensibility. So we prefer to see Vidya in her trademark Kanjeevaram sarees these days which go well with her well-rounded persona.
It is hard to believe, but there was a time not long so ago when Vidya could be tolerated in other ensembles too, but her ever-increasing girth has started restricting the versatile actor to a rather select wardrobe. But hey, nobody's complaining! As long as Vidya continues to entertain us with her power-packed performances in films like Parineeta, Bhool Bhulaiyya, Paa, No One Killed Jessica, The Dirty Picture and Kahaani, Vidya will continue to enamour us.
The talented actor, director Sujoy Ghosh informed us, will be seen in his next project, Kahaani 2, but minus her pregnant belly this time around. Frankly speaking, it is difficult to imagine Vidya without her generous proportions. After all, she has certainly come a long way since her Parineeta days when she was slim and so pretty. So we decided to flip back the calendar to understand the mighty metamorphosis of the Balan gal. Take a look!