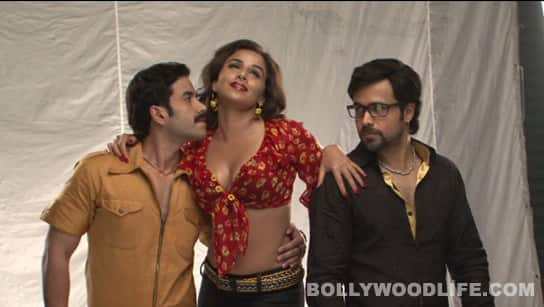 Siddharth Roy Kapur gets possessive over lady-love's lip locks
Recently, sultry actress Vidya Balan found herself in the proverbial professional-personal life dilemma. We heard that her CEO beau Siddharth Roy Kapur wasn't very happy with Vidya's lip locks in The Dirty Picture. Our li'l birdie informed us that although Siddharth doesn't interfere with Vidya's career, he couldn't help squirming at his lady love's smooch-fest with co-stars Emraan Hashmi and Tusshar Kapoor.
"Naturally, Siddharth wasn't too pleased about her kissing scenes and asked her why she agreed to shoot them," revealed our source. And our birdie insisted that Siddharth even requested Vidya to try and tone down the scenes. But, alas, Ekta Kapoor – the tough lady who just happens to be the film's producer – was adamant and refused to budge, saying that "The film is about the life of Silk Smith, a sassy girl. But there's also a good measure of dark humour and intense drama. So whatever Vidya has shot is in keeping with the subject and her character in the film." Our source also adds that director Milan Luthra is all praise for Vidya Balan, who was very professional and showed no discomfort during the scenes in question. He says, "It goes without saying that it's not a very easy scene to shoot. The film seeks to push the envelope further – that's the kind of clarity she and I share, right from the start." Sigh! And what about Siddharth's discomfort? To this the director replies, "I've no knowledge of Vidya's personal life. We just discuss work. That's it." Well Mr Kapoor, breezy air kisses aren't something that you expect from Silk Smitha, so if you knew your gal was doing the film at the start, why object now? Hey, we are waiting now for our Vids to say something about this whole jhamela!