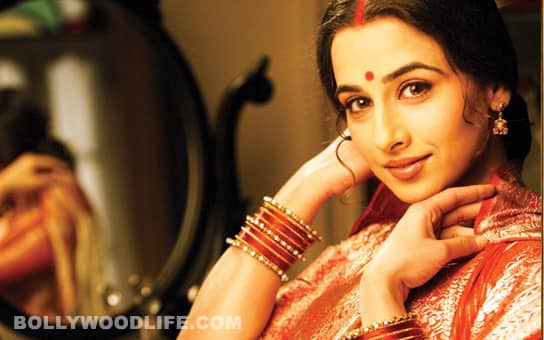 skip advertisement
It must be a utopian world for Vidya Balan these days, perhaps the kind of world she always wanted to be a part of. A job that could satiate her creative pangs, a profession that would pay her back (with loads of moolah and respect) and a career that could give her the freedom to portray roles that were once nothing but distant dreams…life couldn't get better for Ms Balan!
Although she saunters around with a sense of pride these days, there was a time when was bombarded with a barrage of insults instead of showers of rosy compliments. Her dressing sense was constantly under the scanner and her style choices would be questioned by everyone who had a voice. Although she has finally found a friend in designer Sabyasachi Mukherjee, wethinks that at times it gets imperative to retain a few of those unpleasant moments in her memory bank so that she does not repeat them. 'Coz if not, how will we remind her of the quid pro quo deal between us – that in return for the criticism she received in bucketfuls for her botched-up style statement in movies like Kismat Connection and Heyy Baby, she still gave us performances par excellence in movies like The Dirty Picture, Kahaani and many more?
Check out the National Award winner's fashion statement over the years. Her style graph has shot upwards over the past couple of years and with Kahaani being released last week, the actor is once again creating waves with her filmi look, big tummy, maternity dress and waddle…
Maybe Balan finally realised that fashion should ideally be a perfect mix of logic and intuition. Whatever happened, we are glad that she came out of the days of horrid faux pas. But in an attempt to do so she has blindly trudged into a rut of sorts. Her fashion routine comprises of wearing the same old jazzy saris and three-quarter sleeved blouses. Although the cumulative sum of Vidya's onscreen style avatar is a perfect ten according to us, we doubt if our ratings would be the same when it comes to her offscreen style. All we can say is, guess it's time to buck up again, Vidya!