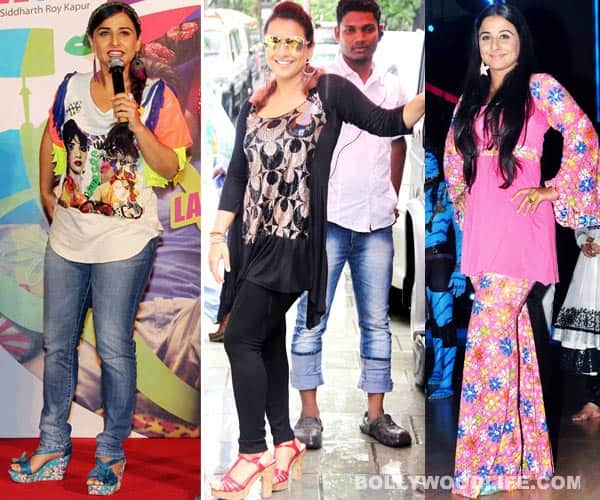 The actor has been appearing in a Punjabi-ish avatar at all her Ghanchakkar promotional events. Looking at her, we cannot help but pucker our lips in distaste…
We all know Vidya Balan's tendency to slip into her onscreen character just before the release of a film. Remember the promotional events for Ishqiya, Kahaani and The Dirty Picture? Keeping up with the trend she created, she has been reality show hopping in a whole wardrobe of colourful ensembles. And honestly, she brings to mind a brightly coloured ball rebounding from wall to wall. She will be seen playing the role of a hyper Punjabi housewife in the movie, opposite Emraan Hashmi. Her body language and the way she talks in the film is the absolute antithesis of a coy Indian homemaker for whom 'suniye jee' is a permanent fixture in any conversation she has with her husband. But did the stylist really have to go this over the top for making VB seem like a fashionably enthusiastic yet prone to style disaster kinda lady in the film?
Till we find the answers, here's VB in her garish outfits…
Retro dud: floral bell-bottoms, bell sleeved top and dangling kiddie-styled earrings – yes, she wore all this to India's Dancing Superstar. VB's bright pink avatar is so not easy on the eye. Give Balan a Bajaj scooter and she will look like a sidey from a 70s film.
Vidya the 'gundi': Isn't she looking like Vidya bhaai in those tight-fit denims, joker-ish sleeved T-shirt and blue wedges? Every statement is as different as chalk from cheese. Balan makes sure she goes totally out of her way to look straight out of the ark…
The cheesy disco dancer: Looks like she is all set to break into Mithun-style dancing. The shiny golden top and skin-fit leggings are enough to ruin our happy 'all set to check out some cool fashion' mood.