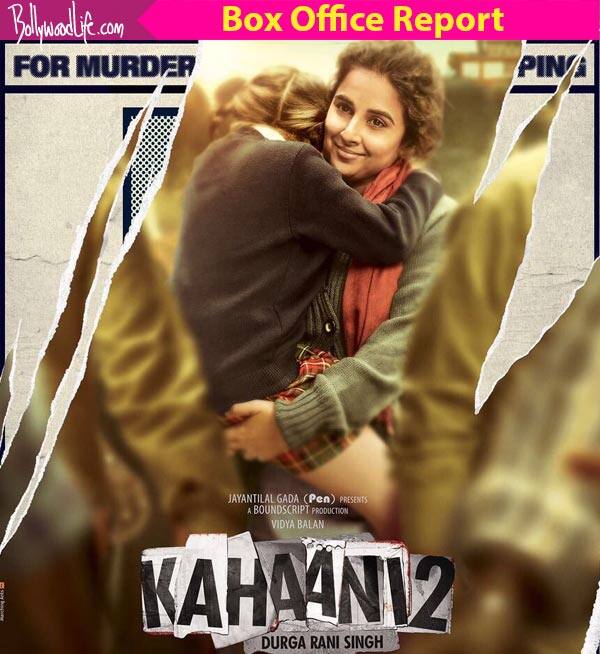 Vidya Balan's Kahaani 2 – Durga Rani Singh released today and from what we hear, it has gotten off to a decent start. The movie was one of the most anticipated sequels of the year and looks like it has loved up to everybody's expectations. We hear that Kahaani 2 – Durga Rani Singh has started off with an occupancy of 15-20 per cent across India, nearly 40-50 per cent in Kolkata. This is a very decent number for the morning shows, considering today is a working day. But the best part is that, many evening shows have been booked already, so expect the film to see a growth in occupancy by the evening.
Looking at this trend, we guess the film can open anywhere in the range of Rs 7-9 crore. Our trade expert – Amul Vikas Mohan had also predicted the same earlier. He had said, "I expect Kahaani 2 – Durga Rani Singh to open decently. It can collect in the range of Rs 6-8 crore on day one, which is really good. The lifetime depends on the content of the film." ALSO READ – Will Shah Rukh Khan-Alia Bhatt's Dear Zindagi AFFECT Vidya Balan's Kahaani 2 – Durga Rani Singh?
Kahaani 2 – Durga Rani Singh is the sequel to the 2012 hit thriller, Kahaani. The latter had earned a huge profit after people were intrigued by the plot of the film and a positive word of mouth publicity propelled the movie. Kahaani 2 – Durga Rani Singh is bigger and much more intense than the first part. The performances are fabulous too. Our reviewer revealed in the movie's review, "Director Sujoy Ghosh creates a world similar to the one we saw in underwhelming Te3n, a few months ago. Vidya Balan is as usual top notch in her portrayal of a vulnerable as well as destructive mother. Watch out for the pre-climax scene in an abandoned house. That particular scene has a spine chilling performance by Balan. She will freak you out. Arjun Rampal's nuanced and natural portrayal of a cop will stay with you even after the movie ends." So while the morning shows have started off decently, expect the film to jump as people will rave about the film and it's plot once again. A good word of mouth publicity will help this movie too.
Vidya Balan looked radiating as she was spotted on the sets of Yaaron Ki Baraat for Kahaani 2 promotions

The Kahaani 2 actress looked lovely in her dual tone green ensemble. The actress surely gave us an entertainment packed episode of Yaaron Ki Baraat.

Image credit: Yogen Shah

Vidya Balan was accompanied by Kahaani 2 director Sujoy Ghosh on the sets of Yaaron Ki Baraat

Sujoy Ghosh, the Kahaani 2 director was seen in a sporty mood on the show. As he was seen wearing a saree for one of the tasks Vidya and Sajid can't seem to control their laughter.

Image credit: Yogen Shah

The show gets more dramatic as Vidya Balan dresses up as a lawyer while Kahaani 2 director is seen in a saree

While Sajid Khan can't control his laughter behind, Vidya and Sujoy keep his entertained with their dramtic get ups. This episode of Yaaron Ki Baraat should definitely not be missed.

Image credit: Yogen Shah

Vidya Balan was seen glowing in orange during the Kahaani 2 promotions

Vidya looked gorgeous during the Kahaani 2 promotions. The actress who was seen promoting behind the bars and in handcuffs kept it simple this time.

Vidya Balan and Arjun Rampal caught in an adorable moment during Kahaani 2 promotions

Vidya and Arjun's this candid snap as she holds his arm is adorable. The two look very excited for the release of their film this week.

Arjun Rampal was again spotted wearing an all black attire for Kahaani 2 promotions

Arjun Rampal seems to be in love with the all black look. The actor was seen in the same ensemble during the Rock On 2 promotions recently.

Vidya Balan on sets of Super Dancer for Kahaani 2 promotions

The Kahaani 2 actress was recently seen on the sets of dance reality show Super Dancer for the promotion of her upcoming movie.

Image credit: Yogen Shah

Vidya Balan looked gorgeous while posing with the judges of Super Dancer

She dazzled in her traditional attire as she posed with Shilpa Shetty and Geeta Kapoor on the sets Super Dancer.

Image credit: Yogen Shah

Vidya Balan with Super Dancer contestants during Kahaani 2 promotions

The actress has been on a promotion spree for her upcoming suspense thriller movie which stars Arjun Rampal.

Image credit: Yogen Shah

Vidya Balan looked gorgeous during the Kahaani 2 promotions

Vidya looked absolutely radiant at the promotions of Kahaani too along with Arjun Rampal. The actress in a blue ensemble had a widespread smile throughout the event.

Image credit: Yogen Shah

Arjun Rampal was again seen dressed in his casuals for the promotion of Kahaani 2

Whereas Vidya was seen all excited and dressed for the movie promotions, Arjun was seen in a rather dull avatar as he was seen in his casuals.

Image credit: Yogen Shah

Vidya Balan is behind bars, but why?

Vidya behind the bars will make you pity her. The look on her face pleads not-guilty as she is stuck in jail. We really love the impact created by the films promotions.

Image credit: Yogen Shah

Vidya Balan's threatening expression during Kahaani 2 promotions should get you very worried

The expression on Vidya's face clearly states that she is planning revenge in her mind. Vidya looks super pissed.

Image credit: Yogen Shah

Vidya Balan sees a chance and makes a run for it

Vidya aka Durga Rani Singh grabs the second chance she gets at proving her innocence and runs from the jail. We wonder if she will seek revenge now.

Image credit: Yogen Shah

Vidya Balan was recently spotted during Kahaani 2 promotions

Vidya Balan was seen promoting her upcoming film Kahaani 2 - Durga Rani Singh. The actress looked gorgeous and sported the trendy top bun.

Image credit: Yogen Shah

Vidya Balan aka Durga Rani Singh gets arrested on stage

Kahaani 2 promotions gets interesting with the element of drama as fake cops come to drag Vidya off the stage.

Image credit: Yogen Shah

Vidya Balan can't seem to stop smiling during the dramatic promotions

Vidya was seen smiling all throughout the Kahaani 2 promotions. The actress seem to have enjoyed the promotions.

Image credit: Yogen Shah
And Kahaani 2 – Durga Rani Singh might easily go ahead to make Rs 27 crore by the end of the first weekend. As Amul explained earlier, "From Rs 8 crore on day one, Kahaani 2 can collect anywhere in between Rs 9-9.50 crore on day 2 and Rs 10 crore on day 3. So you are looking at just a little under Rs 30 crore over the first weekend, which is a great number for such a film.." ALSO READ – Kahaani 2 – Durga Rani Singh movie review: Vidya Balan is a scene stealer while Arjun Rampal's performance stays with you
Have you seen Kahaani 2 – Durga Rani Singh? Tell us about your thoughts in the comments section below! Also check out our EXCLUSIVE interview where Arjun Rampal reveals a secret about Vidya Balan that could land them in trouble right here: