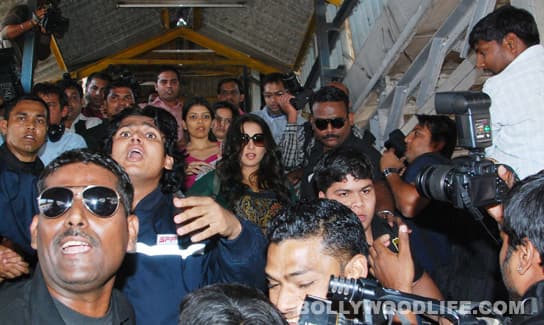 skip advertisement
As a part of the promotional activity for her next film, the 'Ooh la la' girl almost caused a stampede at a suburban railway station and fans were caned by angry cops
The makers of Kahaani, in an attempt to keeping promotions as real as the film itself seems, caused a great deal of inconvenience to unsuspecting people who were travelling by train this afternoon. Director Sujoy Ghosh's film Kahaani is about a pregnant woman, Vidya Bagchi, played by Vidya Balan, in search of her missing husband in Kolkata. To promote the film, someone came up with the bright idea of taking the lead actor to a busy railway station in Mumbai, where she would try and look for her husband, distributing pictures and speaking to commuters at the venue.
Thanks to the frenzy caused by Vids' previous outing, The Dirty Picture, everyone at the station wanted to see her.
She arrived in a public taxi and the moment she stepped out, she was mobbed. Being the brave girl that she is, she went ahead and walked up to the platform and caused more commotion that would be seen when a train arrives during the morning rush hour. That's when the cops had to step in and many enthusiastic fans were caned. Many of them didn't even know about the movie and were just going on with their lives when they were taken to task by the policemen. After the event, Vidya was supposed to talk the media gathered there about her role in the film, but even that didn't happen. She was whisked away in her private car because the crowd had become unmanageable by then. A few disgruntled folk who got beaten up swore to not watch the film even when it was be aired on television sometime in the future. Wethinks this is a promotional idea gone terribly wrong, and hope that someone issues an apology for the inconvenience caused. Don't you think it was unfair?