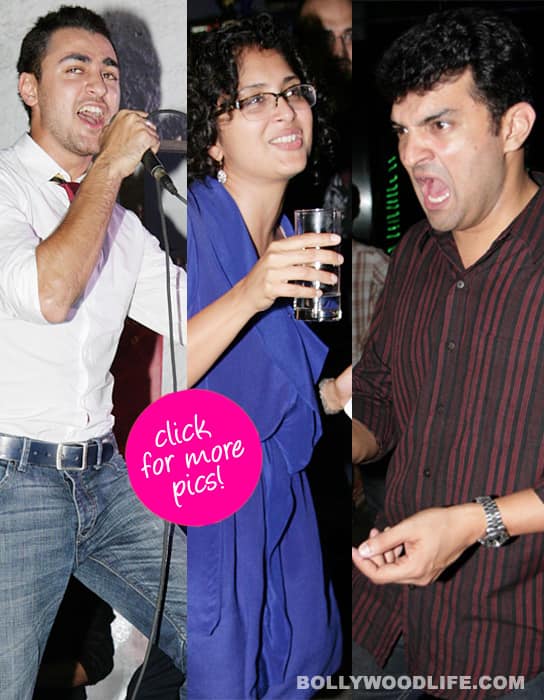 At the success party of DK Bose, Kiran Rao mingled, giggled and boogied, Imran Khan cosied up to the mike and Siddharth Roy Kapoor showed off some sexy dance moves
Bollywood is always looking for a reason to celebrate, and Aamir Khan and Kiran Rao had a great excuse recently. Delhi Belly has not yet released, but the team found a reason to cheer: the success of the controversial song DK Bose. Two sets of people have got hooked on to it – one that loves the double entendre lyrics and another that is getting all moralistic about it. I won't say who belongs to which, you must have heard enough by now. Whatever it is, Aamir obviously thought it was a reason to celebrate. Trust him to do things differently! A suburban lounge was booked for a live gig by Ram Sampath's (music director of Delhi Belly) team. It was one of the first nights of heavy downpour in the city, but it did not keep anyone away from the merrymaking, not even me. I watched Ronnie Screwvala and Siddharth Roy Kapoor cheerfully socialise. Kiran came in looking pretty in an electric blue dress. Imran Khan was accompanied by the women in his life – wife Avantika, mother Nuzhat and mother-in-law Vandana Malik.
Soon after everyone arrived, Sampath and his team hit the stage and got into action, crooning Bedardi raja, Penchar disco and DK Bose (backing vocals by Imran, Vir Das and Kunal Roy Kapoor). A live performance is always fun and exciting and this was just that. Half an hour into the performance, the crowd was going crazy, constantly hooting and requesting encores. The night did not end there. Soon after, the party shifted to the dance floor, where Vidya Balan's reported current boyfriend Siddharth Roy Kapoor was lost in the music, boogieing with some female friends. Wonder what Vidya has to say to that! Then there was Kiran Rao, who behaved nothing like a star-wife; she mingled, giggled and burnt up the dance floor. Now we know what makes Aamir such a happy man!
The last to leave the floor was the film's director, Abhinay Deo, who seems to have gotten over the flop that was Game. Imran was dressed smartly, in jeans teamed with a shirt and a tie tucked in military style (didn't we see Hrithik do this look when Kites was being plugged?), and shuttled between the dance floor and his ladies. Maybe he and wife Avantika, who seemed glued to her high stool, should take dancing tips from mamijaan, who enjoyed shaking her booty with each and every one present. And that means the media, too! Now that's what I call a party, where the stars literally come down to earth!