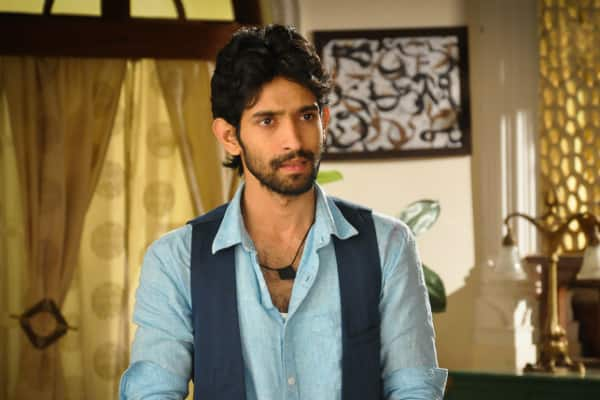 He is an introvert by nature, prefers to keep his personal life private and is busy reading or sleeping when he is not working
Vikrant Massey talks about playing Ayan on Zee TV's popular show, his on and off screen equation with Karan Singh Grover, what he dislikes about Qubool Hai and more…
What made you take up Qubool Hai?
Prior to getting into the show, I watched this daily soap. Obviously the show is very different from what I've done so far. The first thing that strikes you is the authenticity of the show when it comes to showing Muslim culture and background. Qubool Hai is bang on when it comes to that; as an audience member, I really like the show. When I got to play Ayan, it was simply perfect. There were a couple of other things lined up too, but I took this up because I've never done anything like it before. It was a challenge and a lot of fun.
Were you compared to Rishab Sinha, who played Ayan before you?
Yes, I have been, but I couldn't really care about it. This is the first time I have replaced someone. Comparison is an obvious thing in such a situation, but it never affected me. A lot of people said good things about my performance, so I was happy. It didn't seem important. As a professional and an actor, my only motive was to perform to the best of my ability.
Ayan had already set a standard, so was it difficult to take the character ahead?
Qubool Hai is popular show; and when you are a part of such a show – especially in my case, since I started mid-way – you have to understand that the expectations of people are sky high. It's a great position to be in and I liked it. Taking the character forward was something already etched out by the makers. I'm not doing anything intentionally.
You've got a new and dishy look in this show, unlike in your previous daily soaps…
One person can never take the credit or the responsibility of bringing out anything on a TV show. It's a team effort in styling me. Of course I have given inputs too and it is a new look for me – coloured pants and high-top shoes. This is not how I dress usually. People are liking it – so far so good.
How is your equation with Ketki Kadam aka Humaira?
She's a wonderful girl to work with. She is young, just 21, from Pune. And I am just getting to know all of them. They are a family and I am trying to be a part of that. Working with Ketki is excellent – she is a nice actor and impulsive, like her real self. She is very cool with the work she does; we chat a lot and exchange a lot of info about each other. That personal touch is there. She is fun and great to be with off screen.
We heard rumours about you being paired with Zoya in the future – is there any truth in that?
There were a lot of speculations – I heard about this too. So I had a long conversation with my producer to figure out why are people asking me this. Is it going to happen? If you ask me, since it is a story about two brothers, people fear that this could be a possibility. The audience is deeply connected to Asad and Zoya and this is their biggest fear. All I can say is that I do not know about the future, but as of now, there is no such track.
How was it working with Karan Singh Grover?
I am working with a fantastic unit. They are genuine, gentle and great people to work with. Karan and I sat down the other day to have a long chat and broke the ice. We are happy working with each other. He is a fine actor to work with. Off screen, we talk a lot, but since we work on different sets, we do not get to spend a lot of time working together. We have a lot of interesting conversations whenever we meet – we discuss politics, movies, music… you should join us sometime! Karan is in fact an awesome singer. He jams for us sometimes.
Do you think a lot of focus is given to Asad and Zoya and not to your story?
It doesn't matter to me; I am happy with what I have right now. I am not working here to compete with anyone. I am here to support my crew. Asad and Zoya are the primary characters of the show and one needs to understand that. I am here to do as much as I can and that's all I care about.
Tell us one good and one bad thing about Qubool Hai.
It's a great unit to work for. There's no bad air in this place – everything is very positive. Everyone supports one another and are ready to help in any situation. The one thing I do not like is that I have to travel all the way to Powai for the shoot. It takes up all my time. I live in Versova, I spend about four hours to commute from place to the other.
Besides Qubool Hai, what do you watch?
I still watch Balika Vadhu, 'coz it's my show. I am mostly into news and current affairs.
What do you do when you're not working?
I read a lot and I love sleeping. I am the laziest man in the world!
Do you think TV is female oriented?
Absolutely not. There are wonderful shows that are male oriented as well. We are not competing in this industry. There are stories that need to be told from the perspective of a women and some by a man. There are several shows like that.
Is TV regressive?
I don't think so. However, I wouldn't want to comment on this. Shows work according TRPs and the requirement that viewers have.
One thing you'd like to change about TV…
People should execute what they truly believe in. People should step out their comfort zones, be ready to experiment and do things creatively. Like when Channel V came up with The Serial – although the show was not too popular, it was a novel concept and had never been done before.
How similar or different is Vikrant from Ayan?
We are very different – there is no similarity, except maybe at times when Ayan snaps suddenly…I do that too. That's the only similarity. Ayan is impulsive; I am not.
What pushes you over the edge?
Profanity pushes me over the edge. That's why I refrain from it.
Are you seeing someone?
Yes, I am seeing someone. She is not from this industry. I met her first in Mumbai and things clicked. I am very happy right now; however, it is a little too soon to talk about marriage. We've been together for barely a year.