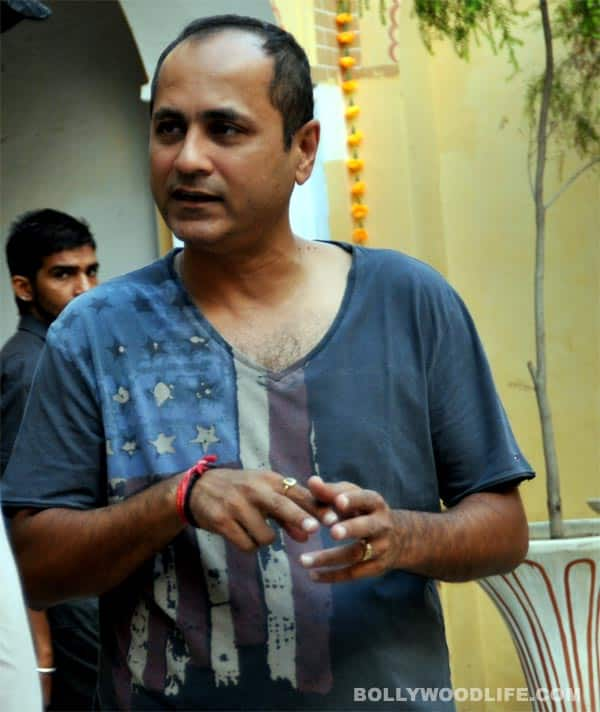 BollywoodLife caught up with the director-producer of Aankhen, Waqt, London Dreams, Singh is King, Namaste London and many more. Vipul Shah talks about his new movie Commando starring Vidyut Jamwal, his association with Amitabh Bachchan and Akshay Kumar, and why he thinks that Bollywood filmmakers shouldn't care too much about the standing of Hindi movies on the global map
Vipul Shah is excited about his new film Commando starring Vidyut Jamwal and Femina Miss India-turned-actor Pooja Chopra. While this is Vidyut's second film with Shah – the two had worked together before in John Abraham starrer Force – it is Pooja's debut in Bollywood. We met Vipul at his sprawling Mumbai office to find out what Commando is all about, and much more….
On casting Vidyut as the lead in Commando
"After watching Vidyut's performance as a villain in my previous production Force, I got many positive reactions from the fraternity about the young actor. Even I thought he deserved one more chance, so I decided to cast him again, but this time around as a hero as opposed to his character in Force, where Vidyut had played a flat-out baddie. I think people will accept him as a hero too. Many well known stars – from Shatrughan Sinha to Shahrukh Khan – started their careers with negative roles, but later they were accepted as heroes. Vidyut too, I believe, could be one of those stars. He is young, unconventional and extremely fit, plus he's a martial arts expert, so I could not have found a better action hero than him for this venture. After watching Force and the rushes of Commando, Akshay Kumar, who is good friend of mine, told me that Vidyut looks very promising. In my opinion, if Vidyut achieves half of what Akki has, he will be a star."
Commando is not a remake!
" My film is not a remake. Generally when people think about an action drama these days, they presume that the movie must be a remake of a South film. On the contrary, Commando is an original story and contradictory to what the title might suggest, this film is not inspired by any Hollywood flick. You won't see mad, over-the-top action in this one. Instead, you will watch real action in this drama. The film is high on action, with minimal violence. There's no bloodshed in the movie. It's clean action entertainment without a single disturbing visual. Commando is more like a Jackie Chan kind of action flick, where you see no bloodshed, but just pure entertainment"
On promoting fresher talent
"When I started out as a producer, there were many people who helped me and guided me to build a career in this industry. Without their support I would not have reached where I am today. People like Amitabh Bachchan, Sushmita Sen and Akshay Kumar, with whom I share a great rapport, have stood by me. If Amitabh Bachchan is a legend, Akshay Kumar too is a bankable star at the box office. The two have helped me during my early days in the industry and I can't forget that. I think it's my turn now to promote new and young actors who are seeking opportunities. With Commando I have provided a good platform not just to Vidyut and Poooja, who will be making her film debut, but the music director of the film, the costume designer, the stylist, the choreographer and my director, Dilip Ghosh – all these people are making their debut with my production. And I have tried my level best to make sure that all these people got the best of facilities and production values any big stars get. I will continue to promote newer talents with my films in the future too."
Indian filmmakers should not care about approval from the West
"I think we as an industry can sustain ourselves on our own; we don't need anybody's approval from the West. On the one hand it is appreciated that we are finding larger audiences these days from various different countries for the kind of subjects we are daring to handle, but we must also not forget the strength of our cinema. Rather than following trends blindly or trying too hard to set them, we should constantly work on making our stories, our technology, our craft and our cinema better. I don't think that we need appreciation from the outside to prove that we have come of age, or that we have arrived at the international level."
Making Rs 100 crores is not the only goal
"Such is the magic of cinema that movies can't be made only with the objective of minting money at the box office. There has to be that urge to tell a story. Having said that, I must add that money is also very important. Commerce and creativity are two important dimensions of this business and a fine balance has to be maintained whenever one embarks on the journey of making a movie. But those who are here just to make moolah must understand that there are other businesses in the market that are done just with the only aim of making profits. If you are just a businessman, I don't think you should be in this business. The movie business doesn't work like that. Today I am a successful producer and will only make movies I have tremendous faith in."