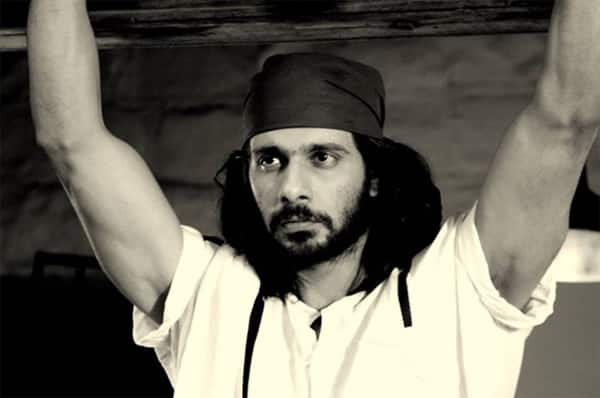 Television does not do the hero of Life OK's Ek Boond Ishq justice – he is much hotter, more charming and far funnier in person than on camera…
Viraf Phiroz Patel says it's okay to call him just 'Viraf', 'coz that adds a personal touch. The actor who stole hearts as Shiv in Mahiway and Aditya Raj Merchant in Kismat has finally decided to make a comeback to daily soaps after two long years – lucky us! Viraf was originally supposed to return to TV in Star Plus' Iss Pyaar Ko Kya Naam Doon after Barun Sobti left, but clearly things didn't work out.
The dishy dude is currently shooting for Life OK's Ek Boond Ishq, in which he plays the brooding hero, Mrityunjay. Viraf talks about how much he enjoys being in front of the mirror and doing makeup. He grins at the fact that in this role it takes him longer than the female lead to get dressed and ready. Although the unmanageable hair and unkempt beard bother him, he says it's all part of playing a new character. Viraf also talks about TV culture, his social life and more…
Tell us about your character in Ek Boond Ishq…
Mrityunjay is troubled, intense – almost like your quintessential brooding hero from a daily soap. It's very interesting for me to play this poised and righteous character who has a dilemma he can't control. The audience tends to relate to such characters and I'm enjoying playing this role.
What made you decide to do this daily soap?
None of the scriptural elements made me take up this show. I'm here primarily 'coz of three factors, 1 – I did Teri Meri Love Stories for BBC before and I had a lovely experience working with them. Since they were making this show, I just couldn't refuse. 2- Saba Mumtaz – the hotshot writer on the block, she writes soaps like Yeh Rishta Kya Kehlata Hai and Sarawatichandra, so I see great value in being a part of her vision. 3 – Life OK is a very aggressive and promising channel.
You auditioned and even shot for Iss Pyaar Ko Kya Naam Doon – why didn't that go live?
The real gossip I believe you will get from the channel. But my version is, they tested and blocked me for the show. However, at some time they decided to shut down the serial – as simple as that. And before you go imagining that I am being diplomatic or lying about it, let me tell you, I am not. The reasons are best known to the channel. You must give them credit for the fact that they know what they are doing, they're a leading channel after all and I'm sure the decision they had taken must have some logic and wisdom in it. And if there was no wisdom involved, I'm sure they would look back, retrospect and correct it. I am just happy to be a part of the same network.
Tell us about your journey from Mahiway to Ek Boond Ishq….
Mahiway was a great start to my acting career. I had a lot of fun doing it. Then came Kismat, which was Yash Raj's next show. It was a once in a lifetime opportunity to play a role of a man from 20 to 60-years old. I took a break of six months, as we were planning to a sequel to Mahiway. However, Yash Raj Productions decided to not do a sequel. I started doing theatre, which was a great experience. I came back to TV when BBC offered me Teri Meri Love Stories. From there, I was called for Iss Pyaar Ko Kya Naam Doon. In the beginning of 2013, sometime in March-April, we started talking about Ek Boond Ishq and here we are.
So what is Ek Boond Ishq (EBI) about?
EBI is a play of three very interesting characters. Right in the centre is Tara, played by Chhavi Pandey. I'm very fascinated by her character, 'coz she's loud, spontaneous and spunky. I'm happy that a character like that is going to be TV, as it brings some progressiveness to the concept of femininity and womanhood. Then of course there is our antagonist – Kalavati, played by Vishwajeet Pradhan. When was the last time you saw a eunuch on a poster? It's an intriguing idea. There is a lot of the typical daily soap drama in it, but there's also something fresh…
Does it bother you to have such a messy and unkept look for the show?
Actually I have become used to it; in Kismat we used to do a lot of get-ups. And I love taking time with my makeup. It doesn't bother me, because you know it's going to do something for the role you play. It's part and parcel of the job and I love what I do. I enjoy putting on the makeup, costumes, and jumping around the sets. In fact, I take much longer than the heroine and that makes me feel very happy. I get more attention from makeup artists and hairdressers, which is so cool.
What is your relationship status? Are you single and ready to mingle?
That's for me to know, and you to guess. But I love personal questions. They're so spicy. I'm all for personal questions. Chuck the story and the show; let's talk about my personal life. I love that! (Smiles sarcastically)
Besides acting, what keeps you interested?
I'm a closet writer, but none of my work is published yet.
What do you write?
You'll soon know. I'm a photographer too. I tried sending four of my pictures to National Geographic after my trip to Leh-Ladakh. I thought they were the most beautiful pictures. But they said I need to work harder. I want to feature my pictures in National Geographic some day.
What do you do after shoots?
I go home and sleep. No parties, I have no social life.
What do you do on holidays?
I listen to music, cook, and hang out with friends. I'm quite the domesticated guy that way.
Do you think TV is regressive?
Not at all. It's a reflection of the average state of sensibility of audiences. There is no point making judgements about it. You need a reference point to stand on to decide what is progressive or regressive. Nonetheless, I don't want to be in that position. The fact that it's selling means that people are watching it and you have to give credit to the people who are running channels. They know what they are doing and are giving what the audience wants.
But don't you think there's a lack of choice?
We have about seven or eight GECs, so where's the shortage? When you're in a ruthless and aggressive place like a GEC, where a lot of corporate stakes are involved, it's a business. And they have the right to run a business in this world of capitalism; we're not a communist country. They have the right to do what is the economically suitable for them and if the economics lies in making saas-bahu soaps, so be it. They not here to change the world; they are here to make a living. The fact is that these kinds of soaps are selling, so it's not a lack of choice. YRF TV came up with different shows that were far away from saas-bahu sagas, so why didn't they get encouraged? Probably because their content was not lapped up by the audience. However, I believe the technical aspect of our industry – the TV ratings system – will soon go through a change.
Do you check on TRPs?
Of course, we all keep a check on TRPs and that is what runs our businesses. And don't ever believe an actor who says mein TRP nahi dekhta hoon.