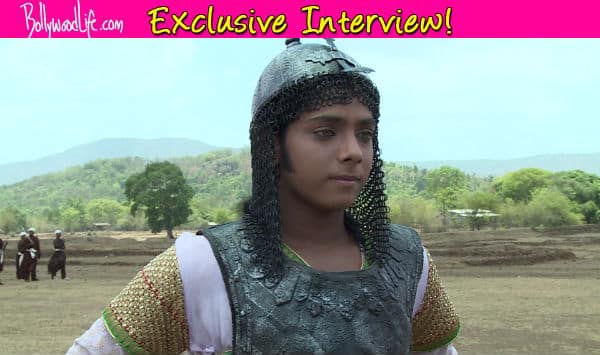 skip advertisement
The young actor talks about preparing himself mentally and physically to play the greatest King of India, his struggle to get the role, the injuries he suffered during the show and more
We caught up with Vishal Naresh Jethwa, who plays Akbar in Bharat Ka Veer Putra – Maharana Pratap during the mega war sequence.
The green eyed actor seemed to enjoy the media attention. He was on the set with his mother in tow, who took care of her darling son's food and break timings. Read excerpts from the interview…
How did you bag the role of Akbar – The Great?
It was a struggle to get the role of Akbar. Frankly, I never realised that I had a talent to act on TV. I am predominantly more of a dancer. I was a background dancer in a reality show. It was during that show that I enrolled myself in an acting class in the same vicinity – just for the kicks of it. After struggling and learning acting for two years, I was introduced to Janet mam, who was casting for Maharana Pratap. I had originally auditioned for the role of Pratap, but I do not know why I wasn't selected for it. I auditioned thrice for the role of Akbar.
Given a choice, which role would you opt for now?
I think I would select Akbar.
Why? What is so special about playing Akbar?
I have become so accustomed and comfortable with it that I believe I can do this role to the best of my ability. See, it doesn't matter what I wish to play. There are a lot of senior and experienced people who chose me to play this role and I believe they know what suits me the best. Moreover, you can't change your destiny and I am very happy with mine. It's an honour to play a great ruler like Akbar. No matter how time evolves, there can never be another Akbar. So I think it's a privilege for me to play this character.
There's a leap happening in Maharana Pratap. What's your plan once your role is over?
The first thing that comes to my mind is that I will miss everyone a lot. We've spent such an amazing time together and gelled so well – it will be sad. Of course post Maharan Pratap I will do more shows. But I doubt I'll ever get to play such a great character again.
What will you miss the most about Maharana Pratap?
I will miss the people on the set; will miss playing such interesting sequences and the things I have learnt on this show. But I will miss the people more. The kind of love and appreciation I have received is unforgettable.
How did you prepare yourself physically and mentally for this show?
We started training even before the show went on air. It was strenuous, but a lot of fun.
Sword fighting, horse riding, combat scenes – What are you most comfortable with?
Actually, I am not comfortable with anything. I can't say I am perfect in any of the things but I am good at dialogue delivery, I am pretty weak when it comes to a fighting sequence.
Have you had any major injuries on the show?
Yes, but am okay now. It was a fight sequence between Faisal Khan and me. I miscalculated a punch and accidentally his bhala (spear) hit me. Also I had fallen off the horse once.
So weren't you scared of horse riding, after the fall?
I do get scared, but we have to do it. It's not that difficult considering I am used to it now. Post my fall, I was terrified, but I overcame that with time.