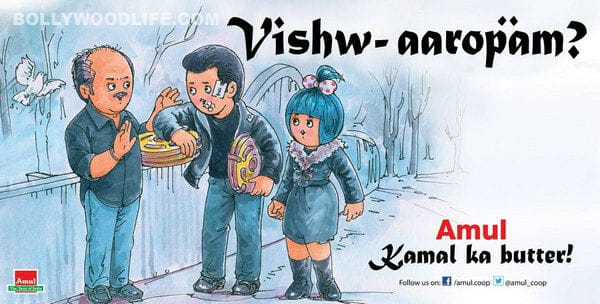 The controversy surrounding the release of Kamal Haasan's latest film finds itself on an Amul ad
Amul has again hopped on to the bandwagon of one of the most-talked about issues in the country. Its new hoarding talks about the ongoing controversy around the release and content of Kamal Haasan's latest thriller, Vishwaroopam.
We love the way Amul sums it up, playing on the film's title. Instead of Vishwaroopam, they are simply saying 'Vishw-aaropam'. It literally means 'a world of accusations' – something which Haasan is facing right now from all corners, mostly Muslim groups who made sure the film was banned in Tamil Nadu, Karnataka, Andhra Pradesh in India and in Malaysia as well.
The Amul topical shows a still from the film, with a injured Haasan standing with his hand on a fence. The film's prints have been placed for effect, along with actor Rajinikanth who has shown full support to his colleague in this matter. Amul's famous girl also finds her place next to Haasan.
Vishwaroopam released today in Karnataka amidst tight security, following the Madras High Court's order that it should be released with cuts. The final verdict is not out as of now and Vishwaroopam is yet to release in Haasan's home state, Tamil Nadu.
Tickets are reportedly sold out at places it has released and a housefull board hangs at most theatres. Which brings us back to Amul's punchline – 'Kamal ka butter'! – playing on Haasan's first name which can also be pronounced as 'Kamaal' (wondrous). Truly wondrous actor he is! As they say, negative publicity is better than the positive and so, Vishwaroopam might be on its way to breaking box office records in India. What do you think?
ALSO READ: Kamal Haasan to meet Tamil Nadu CM Jayalalithaa today over Vishwaroopam ban?