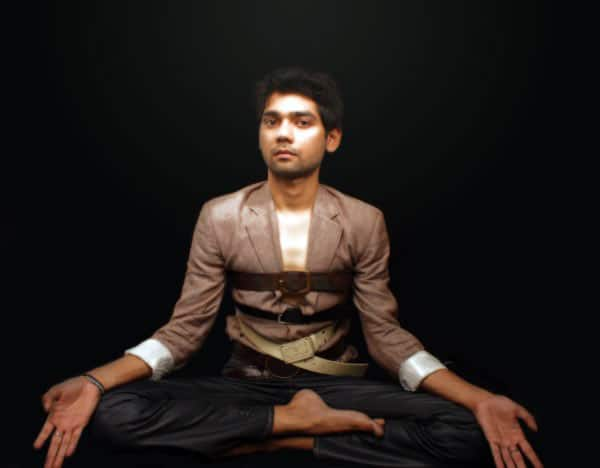 After spending just seven days inside the Bigg Boss 7 house, Vivek Mishra is the sixth contestant to bid adieu to the other housemates…
Bigg Boss had another surprise for the housemates – a mid-week eviction for the first time this season! After spending merely a week on the show, naked yoga instructor Vivek Mishra made an early exit from the Bigg Boss 7 house yesterday. We caught up with the fitness trainer and he told us about his very short journey on the reality show and spilled some interesting secrets….
What was it like to spend seven days inside the Bigg Boss 7 house?
It was mind-blowing, yaar. I had a lot of fun in these seven days. I was with people I didn't know and we shared our opinions on various matters. But at the same time I had a little breakdown as well, because I was not well and I got into an argument with a few people. But overall, it was a mixed experience.
Was your entry planned, to expose Armaan Kohli's engagement?
Not at all. I actually entered the Bigg Boss house to be myself, to talk about yoga, to be more positive in life – and that's what I did.
Was your elimination part of your contract?
I disagree. I can send you the contract if you want. My elimination was not a part of my contract. In fact, the elimination is not decided by the Bigg Boss team until and unless a person does any act that is not justified. My elimination was decided by the voters. I got the least amount of votes and that is the reason I was evicted from the show.
Has Bigg Boss 7 changed your outlook on life?
Honestly, no. But yes, it was a crazy experience to spend time with 13 different people and 13 different states of mind and survive with them. Sometimes it happens that you don't want to see a person's face, but since you have to be in a house with them you don't have a choice. So surely it was the survival of who can play mentally well!
Any regrets?
Not at all. I don't believe in regrets. I always wanted to be a part of India's biggest reality show and I am happy that I got an opportunity to do it.
Who do you think are the three most genuine and three most fake people in the house?
I would say Armaan is genuine. I know he boils with anger even at the slightest provocation, but when he cools down, he realises his mistakes and apologises. Tanishaa is also very humble and genuine. Sangram is also very genuine; he doesn't gossip at all. And when it comes to fake people in the house, the crown goes to Ms Gauahar Khan, followed by Kamya Punjabi and lastly Ms Candy….oooops, sorry – Ms Andy. Ohh, sorry again – Mr Andy!
Now that you have mentioned 'candy', what was that 'Candy Brar' issue between you and Kushal all about?
Arre, maine kuch nahi bola! You just saw that one episode and you saw the verbal spat that I had with him. A day before our argument took place, he discussed his ex-girlfriend (Candy Brar) and her stupid nature with me. I didn't know Candy very well, but yes, we have some common friends. So during the verbal spat I just told him, 'I won't take all this arrogance from you like your ex-girlfriend did'.
Given a chance, would you like to enter the Bigg Boss house again?
Well, yes, if given a chance, I would surely like to enter the house again. This time I just gave my point of view on whatever was happening in the house. If I enter the house again, phir to main band bajaa doonga.
According to you, who is that one person who provokes people to get into fights?
Kamya is the one who provokes people to get into fights and so does Gauahar. Dono equally provocative hai. They instigate people, which is not nice.
What's cooking between Kushal and Gauahar? Are they really in love, or are they just doing it for the TRPs?
Oh my god! Don't you know that! Haan, sorry, woh camera pe aaya nahi hoga. Now whether it's a love story or no, I have no idea. But I noticed something very weird in the house day before yesterday, when Gauahar was not feeling well and the doctor had come to check her. So that day Gauahar was feeling nauseated and she was going into the bathroom again and again to vomit. So a decent girl would normally take a female friend in the bathroom, but woh Elli ko bhi leke nahi gayi, Kamya ko bhi leke nahi gayi and in fact, Pratyusha ko bhi nahi leke gayi. Rather, she took Kushal inside the bathroom and they locked the bathroom from inside. We didn't have a watch or mobile phone, but I can tell you that they were in the bathroom for almost 15 minutes. When Gauahar came outside, I think she vomited so many times that her lipstick was all smudged!
So are you saying that Kushal and Gauahar were together in a bathroom for 15 long minutes?
Yes, of course. Everyone has seen it. But I really don't know how her lipstick got smudged.
What about Armaan and Tanishaa? Are they inspired by Gauahar and Kushal?
No, nothing like that. They are just good friends who bonded really well. The whole house has ganged up against both of them, so obviously one will have weak moments so he/she needs the other's support. Nothing more than that.
Who do you think has a chance of winning Bigg Boss 7?
I actually want Tanishaa to win, but I think Kamya will win. Her bitchy attitude will take her a long way.