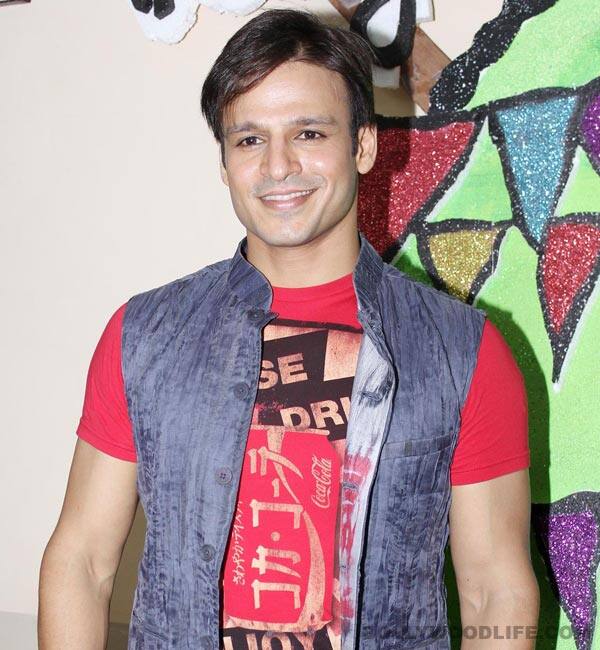 Personally and professionally, things are going great for Vivek and he is enjoying every bit of his life. Why shouldn't he?
With Grand Masti and Krrish 3 Vivek Oberoi is all set to make his presence felt on the big screen this year. Since Company released in 2002 this actor has come a long way and seen many ups and downs, but that hasn't stopped Vivek from being thankful and hopeful. When we caught up with the Bollywood star, a recent new father, we could see the joy on his face, courtesy his small son. Every time we mentioned his baby, Vivek cutely flashed his million dollar smile, assuring us that he truly feels blessed. Awww! So what does Vivek say about his outrageous adult comedy Grand Masti, which family member saw the trailer of his film and the one superpower that he already possesses…
So the bad boys are back with Grand Masti…
(Bursts out laughing) The boys are back… I don't know if they are bad. Actually, it's like good boys in a bad plan.
Professionally and personally you are in a happy space right now…
Yes, I am ecstatic. I couldn't have asked for more. First the phenomenal success of India's Best Dramebaaz, then my little prince coming home and now Grand Masti. The movie has created huge buzz, especially after the trailer of our film erupted on the Net. Then the Krrish 3 promo is also breaking record after record. So life is certainly good (smiles). Having said that, I am the kind of person who believes that there is so much to be thankful about in life any which way.
Aftab said that he had to come out of his comfort zone for Grand Masti. What was your reaction when you first heard the script?
Aftab had to come out of his comfort zone, coz I and Riteish played a shadyantra when we heard the outrageous script called Grand Masti. All the deadliest scenes, all the difficult ones were given to Aftab; I and Riteish said we just cannot do such scenes, no matter what. So our writer Milap Zaveri said, who will do these scenes, and we told him, Aftab. We knew amongst us that Aftab is the most daring guy. He will do the most deadly scenes and in fact, he has done them. Get ready to see Aftab jump to the next level in Grand Masti.
As a genre, adult comedy hasn't been explored too much in Bollywood…why do you think so?
Yes. I think only Daddu (Riteish) is the one leading from the front in this genre. On a serious note, we Indians need to grow up a little bit. We send all kinds of jokes through sms and WhatsApp. But when we are actually in front of people we become conscious, thinking what others would think. We need to get over this awkwardness and being conscious. I keep saying this is a family film for the entire family to see independently (smiles).
Tell us about your character in Grand Masti…
I play Meet Mehta, who was a Casanova during his college days. Girls would drool over him. He was the cool dude. In this film, he marries Unnati (Karishma Tanna – the tallest one). The old wives are not in the sequel. But acha hai..jo real life mein nahin kar sakte, at least reel mein kar sakte hai (smiles). So my wife is overambitious and spends most of her time in the office with her boss. But the problem is, she is my boss in the house and in office as well. Basically, I work in the office where my wife is the boss. So uski dono taraf se baji hui hai. That's why he is frustrated in life. So he decides to go with his friends one night to get drunk and that's where we decide to do masti… Grand Masti. And this is Aftab's bright idea, of course. So we go for the reunion and the madness begins.
What was your wife's reaction when she found out that you were doing Grand Masti?
Actually, the narration happened at my house and I was getting one heart attack after the other listening to it. If Masti pushed the envelope, then this film has torn it. So while the narration was on my wife, being a good host, came to ask if anyone needed coffee or tea. At that time she overheard a few scenes and I saw her expression. Her eyes went twice the size and she was in shock that my husband is doing this film! So I called up Riteish and told him this script is mad, outrageous..the film is crazy. And I call Riteish 'Daddu', 'coz in the adult comedy genre he is the benchmark of all benchmarks. He started with us in Masti and went on to do films like Kya Kool Hain Hum, Kya Super Kool Hain Hum… so he is on a different level. Riteish made a very valid point. He said that if people (Indian audience) are enjoying Hangover, then why do we feel so hypocritical about it! Let's go out and do something new. And our director Indra Kumar has the ability to walk the fine line between vulgarity and fun. So that's an advantage.
Has your wife or other family member watched the film?
Nobody from my family has watched it and nobody will be watching it. I will be taking everybody on a family vacation far… far away. Some place where there is no network connection (smiles). Actually, I will tell you about a funny thing that happened. I was in Bangalore at my in-laws' house. One morning I walked out of the bedroom and I heard a sound. It sounded like my Grand Masti promo. So when I came out, I saw that at the dining table, my mother-in-law is watching the promo on the laptop. When she looked at me, I just turned around and walked back into my bedroom. I didn't know how to face her. But it was fun.
How much did you miss Ajay Devgn?
We missed him a lot. Specially me, coz I have done five films with him. This film has a fun script but it had no space for him. In fact, Ajay and Archana Puran Singh would be really wanted in this film. But if you bring actors of their stature in, then you need roles that justify their talent.
One superpower that you want in real life…
That superpower I already have…. to bring a smile to my son's face.
Three reasons why we should watch Grand Masti…
Riteish, Aftab and me (smiles).