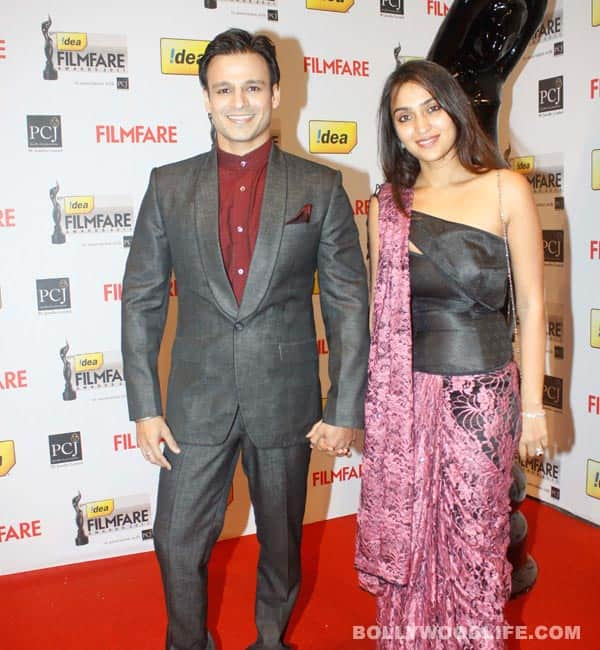 After Aishwarya Rai Bachchan, Shilpa Shetty, Lara Dutta and Celina Jaitly, now it's the turn of the Kismat Love Paisa Dilli actor's wife Priyanka Alva to get ready to change diapers
After a long dry spell and a not-so-happening personal life, it surely looks like exuberant days have come knocking at Vivek Oberoi's door. Finally, we say, 'coz Oberoi Jr's wife, Priyanka Alva is two months pregnant! Now that's real 'good news', isn't it? Also, Vivek's sister Meghna Oberoi is expecting too. So it's a double whammy for the Oberoi family. Whoa!
But that's not the only reason behind Vivek's grin. The actor currently has some big movies on his platter – like Kismat Love Paisa Dilli, Jayantibhai Ki Love Story, Krissh 3, Zilla Ghaziabad and Grand Masti. Quite a handful, no? And it makes us wonder how Oberoi will juggle all these and his baby in the coming future. "He's requested everyone to give him time off for around 20 days in February, so he can be with Priyanka at that time," a feathered friend revealed. So the to-be papa believes in planning well in advance, eh?
And we like that. But as Vivek races to complete his project in the stipulated time, we also hear that the actor is fighting exhaustion. Ouch! After shooting for 20 hours a day for a while, the actor started looking and feeling weak and was advised to take a tiny break by his fitness instructor.
"Vivek had given the day dates to JBKLS, but when the makers of KLPD approached him with a request to shoot for a special promotional song with co-actor Mallika Sherawat when she was down in the city, Vivek agreed. So, he ended up shooting for JBKLS during day and KLPD at nights. But while the work was being completed, it started to take a toll on his health. Vivek looked very weak since the past few days because of this and he definitely needed some rest," a birdie from the sets revealed. Sigh!
Dear Mr Oberoi, we know you want to clear your plate and make time for the baby. But doing that at the cost of your health is so not in! After all, which baby would want to look at a tired and worn-out daddy the first thing after popping out into this world, right?
So slow down. And yeah…..CONGRATULATIONS!