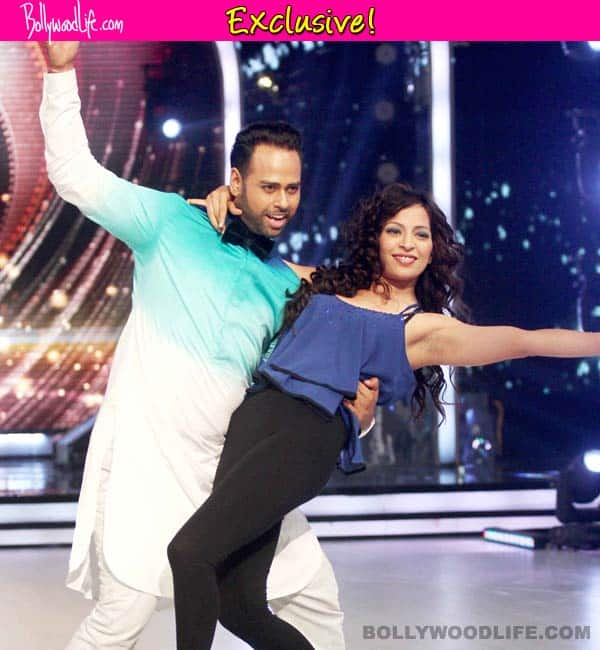 The VJ turned actor got eliminated from Jhalak Dikhhla Jaa 7 this weekend
The Bigg Boss 7 contestant, always expressed his desire to be in a dance competition like Jhalak Dikhhla Jaa, but he never expected his innings to get over in the first week itself. While VJ Andy believes the judges were fair in their scoring, it was the last minute changes in his act that cost him the spot in the dance reality show. In a candid conversation with Andy, he reveals about his original act, his regrets about the show and who has the maximum chances of winning Jhalak. Read on…
Did you expect your journey to come to an end this soon?
I don't think anyone expects to be out first, especially, someone like me who can definitely dance. I don't think I am professional dancer but I can surely move.
Do you think the judges were unfair in their judgment?
No I don't think so. I don't think there was anything wrong with the judges' views. There were several other roadblocks I hit during my journey.
Is it possible that you didn't get enough votes because of an overdose of Andy post Bigg Boss 7?
No I don't think so. If you think about it, BB7 was six months back. And it's not like after Bigg Boss, I immediately took on Khatron Ke Khiladi and then I did Jhalak. I am not over killing. I made a conscious decision to take this up 'coz I believe I can dance.
So what do you think was the reason for your ouster?
The dance that I had been training for months had been cut short two days prior to the performance. My choreographer had to regroup and redo the whole piece again. During the first episode shoot, I didn't even have a piece ready. The other thing was that my choreographer Bhavani – she's extremely new to this world. She is an excellent choreographer but she is more used to the art and theatre field in Delhi. Bhavani has never done television or Bollywood before. Quite frankly, she really didn't know what she was doing as this was totally new for her. I do remember speaking to BBC World Wide and asking for someone who is very experienced on the show.
So when Bhavani came in as your choreographer didn't you tell BBC World Wide that she was not well versed with Bollywood?
I didn't say anything about the new choreographer then. Basically, I understand there was a certain format to the show and you can't really contest to have a new choreographer. In spite of requesting to give me someone experienced, they just did not. But I tried to keep a positive attitude and do it anyway. I was quite happy with it when she started choreographing until BBC World Wide came and told me that they did not want me perform this piece and to recreate something new. Until then I was fine. But when the change happened, I could see that she was not as experienced as the other choreographers in the show. I didn't think she had the skills. I was not comfortable with the second version, but I did it anyway. I didn't think it was something that was never seen before. While performing also, I didn't know why I was doing this and I couldn't really believe in my act at that time. I wish I had stuck to my first piece. They still haven't told me why my first act needed a change.
So how different was your first act from the second one?
I had a whole magic element in the performance. I was initially going to be like a chameleon and camouflage myself with the sofa. It would have been very interesting. It was a very nice piece in it and believed in it. But they said that I'd be in the bottom two if I did that piece. Obviously, considering they have more experience I thought i'd listen to them.
Given a chance what would you do differently?
Well I most definitely would not have changed my act at the last minute.
Did you get to perform in front of Maksim Chmerkovskiy?
I did get to do my second performance in front of Maksim. I think it was much better than the first one. My points were cut for context and it wasn't a well laid out piece. I think, I danced quite well maybe not the best one in the bunch but I was definitely somewhere in the middle. Maksim actually even told me that I should never have been in the bottom two with a piece like that. It was quite incredible that he said that.
So who do you think has the maximum chances to take the trophy home this season?
It's very difficult to say that 'coz more than dance it is a popularity contest. If you consider dance alone, I think Shakti Mohan is a phenomenal, most experienced and beautiful dancer. But if it's about the growth of a performer then everyone has a chance of winning the show 'coz everyone is performing above their standard. This year it's going to be very difficult to judge.
One thing you'd like to change about JDJ?
I think the rehearsal venue. I don't think there is enough room for everyone to rehearse there.
What are your future plans?
I am looking at hosting a couple of shows in July. That is my day job. Films have been on the cards since I have come out of Bigg Boss, but nothing really worked out.