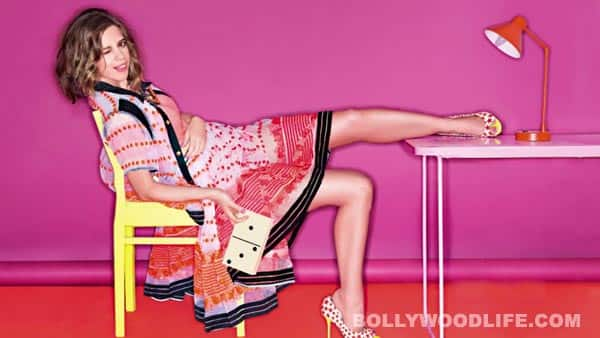 The Zindagi Na Milegi Dobara babe puts forward her funky face for this exclusive cover shoot
We at BollywoodLife try to give you the best from the world of fashion. Right from the trends that rule the roost to the trendsetters who make heads turn with their unmatchable panache, and from the glitzy cover shoots for our popular glossies to the behind the scene fun our celebs indulge in, we have our eyes set on everything that is 'fashion-able'!
So in yet another attempt to get you closer to what goes on behind those closed doors where our B-town divas turn into surreal princesses, we bring you the exclusive video of Vogue December cover 2012 starring the very spunky and beaming-with-unstoppable-energy babe, Kalki Koechlin.
"Being a celebrity is many things. It's an awesome thing for people listen to what you say. You become choosy about the work you wanna do," says the That Girl in Yellow Boots actor. She also maintains that the best thing about fashion shoots here in India (as indeed our film shoots) is the fact that people here can improvise in chaos. "We have this tendency to always be in the middle of chaos, because that's how India is," she adds with a mischievous giggle.
Describing this shoot as mad and funky, the unconventional beauty dawns a polka dotted outfit with a drape attached to it. The graphic detailing on her sari and the way the actor swirls it around and plays with it makes for a beautiful picture. She then changes into different, experimental outfits. From the long pants to the gorgeous tops, from the double breasted jacket to the lovely frocks and gowns, Kalki presents a range of beautiful wardrobe that simply takes our breath away. Now you take a look at this exclusive video and tell us what makes Kalki the flavour of the season!