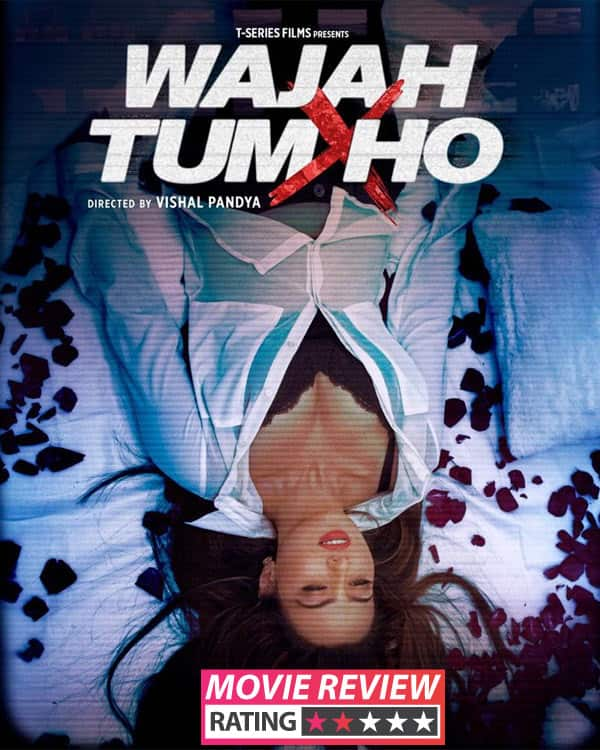 Exactly a year ago I, being a Karan Singh Grover fan, tricked my friends into watching Hate Story 3 with me. Needless to say, I have been banned from picking movies in my group. Director of Hate Story 3, Vishal Pandya's latest offering is Wajah Tum Ho (taking it's title from my favourite song) and he has certainly learnt from his past mistakes. Wajah Tum Ho stars Sana Khan, Sharman Joshi, Gurmeet Choudhary, Rajniesh Duggal in lead roles and is a decent suspense thriller. Is the movie worth your time? Find out…
What is it about
A masked man murders a police officer, and broadcasts the entire ordeal LIVE across all channels of a media group (The police officer is made to swallow litres of petrol). Rahul Oberoi (Rajniesh Duggal) CEO of the media group is brought in for questioning by Inspector Kabir Deshmukh (Sharman Joshi). It is established by Rahul's lawyer/legal team head/object of desire Sia (Sana Khan), that live streaming was done through satellite hacking, and Rahul has nothing do with it. The police is represented by lawyer Ranveer Bajaj (Gurmeet Choudhary), who happens to be Sia's boyfriend as well. Before they all can reach the real culprit, a second murder is broadcasted live. The hunt for the real killer, the backstory, reason behind the killings, and the character's relationships make for the entire film.
What's hot
The plot is interesting and fresh and is made even more thrilling with the background score. People, literally, watch a block of ice melting live on Facebook, imagine what would happen if it's a murder happening live in a twisted, torturous way. Also, if you can digest the fact that Shah Rukh Khan orchestrates an entire chase sequence across countries in Fan, you should not be having much trouble with Wajah Tum Ho's diminished universe of logic, and expanded universe of possibilities. Sharman Joshi is the only good one in the film, and plays his part well. Thankfully no erotic scenes are attributed to him like Hate Story 3. (But his charcater picks up on some very obvious clues, and act like Sherlock.)
There are two twists in the film. I found the first twist so predictable that I saw it coming as soon as the starring credits rolled on screen. But that was me, you might just find the BIG reveal pretty shocking. And the second twist managed to surprise me. The climax is pretty engaging and near perfect. The movie goes up by three levels on the entertainment ladder during the final fight.
What's not
Live broadcast of a murder is an interesting plot, but not explored much. Wajah Tum Ho rather wastes time in dialoguebaazi, takes too much time to uncover the backstory, and has unnecessary songs. You never strongly feel root for any character in the film. Sana Khan wastes her opportunity. She gets more than two-three super strong scenes to deliver in Wajah Tum Ho, and she fails miserably in each one of those. She breaks down twice in the movie, and you feel absolutely nothing. Despite being tagged as the most intelligent character in the film, Sia (Sana) delivers the most stupid dialogues. Sana could have established herself as an actress, but probably would only be remembered by filmmakers when it will come to meaty roles. It is tough to decide if Gurmeet is a good or bad actor in Wajah Tum Ho, much like it's hard to designate him as a TV actor or a Bollywood actor.
Logic takes a nosedive at many points in the film. If you are part of the killing team (sorry spoiler), why would you have posters of your targets hanging in your room with cross marks on them? For investigating officer to randomly walk in and find them? Or why would a police officer discuss intricate revelations about the case in front of both the defendant and the prosecutor? But again Bollywood and logic are just good as a team as Simi Garewal and a multi coloured robe.
The movie ruins not one, not two, but THREE classic songs with butchered remakes. I would pick Kanta Laga Remix as my life's theme song over the three remixes in this film.
What to do
Wajah Tum Ho is far far better than Hate Story 2 and 3. Though it is most definitely not the edge of your seat suspense thriller, it is not outrageously bad either. In India where we celebrate one time watch movies, Wajah Tum Ho can easily be your weekend indulgence. But if you are an ardent worshipper of logical plots, and near flawless films, stick to your sorts.
Rating:
out of 5
Reviewed by Rajat Tripathi
* Poor
** Average
*** Good
**** Very good
***** Excellent