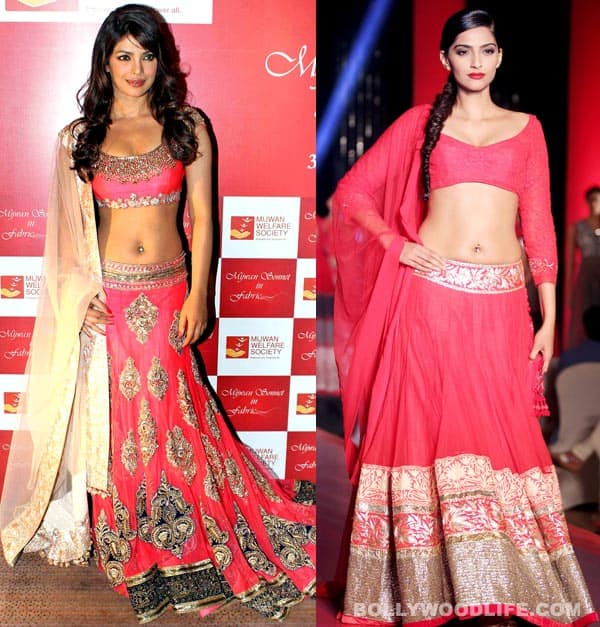 The two babes sport a belly button piercing with great style – Sonam with her usual confidence and Priyanka with her uber sexy charm
Sonam Kapoor and Priyanka Chopra possess bods to die for. While PC uses funky statements to stand out in the crowd, Sonam oscillates between vintage and casual-chic to make an impression. If you have noticed, both the ladies display a 'rebel' kinda fashion with great effortlessness. Be it Ms K's goth statement in Players or the Chopra chick's adventurous bangs in her In My City music video, the actors make sure they sprinkle that occasional tadka of fierce fashion into their style regime.
The belly button piercing is like an extension of Sonam and PC's cool personalities. While the Delhi 6 babe looks like an absolute rock-chic diva with that shiny piece of metal fixed to her navel, PC creates a mini riot of sorts with that stylish piercing.
If you think you can carry off a belly piercing look as well as these lovely ladies do, here are a couple of safe and reliable options you must try. It will cost you anything in the range of Rs 700 – 1000 /- approximately for a ring, and for a stud it's much cheaper – around Rs 250 – 400/ – …unless of course you want the bling to be the real sparkly stuff!
Hakim's Aalim, Bandra
Al's Tattoo studio, Bandra
Inkoholics, Vashi
Shoryuken, Oshiwara
Tattoo region, Lokhandwala (Andheri)
Body Canvas, Bandra