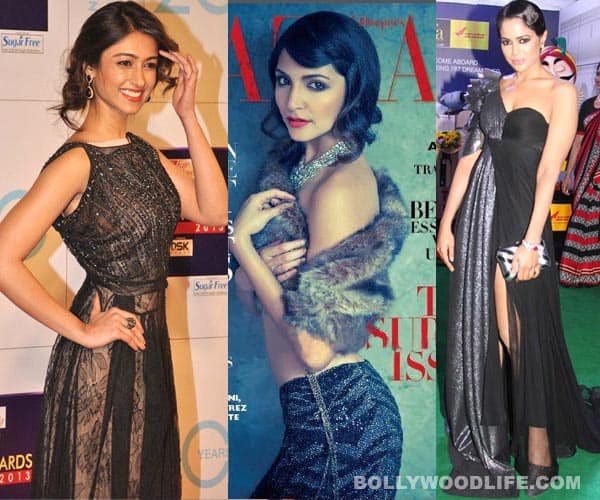 We spotted the two ladies sporting this retro hairdo, and they looked like perfect divas in those soft waves
Marcel waves is a very vintage style. Very rarely do you see Bollywood babes sport perfect MW's on the red carpet. It was popular way back in the 20s and 30s and was recently a hit on the Hollywood fashion circuit. But although B-town is going ballistic with messy braids, stylishly unkempt updos and all kinds of fashionable hairstyles, this trend is yet to catch up. So here are the B-town babes -Anushka and Sameera – who have taken this style route in the fairly recent past. And the honestly the style takes us back to the 'old is gold' era…
So here's the best way to achieve gorgeous Marcel waves – quite a task, but the results will be worth it…
Apply a golf ball of mousse to damp hair distributing evenly throughout. Rough dry the hair using a hair-dryer and paddle brush.
Using a pin tail comb, part the hair to the desired side and section the heavy side forward of the ear. Clip the hair with a sectioning clip so that it is ready for you to come back to.
Roll the remaining hair in medium sized heated rollers aiming the roller inwards. Ensure that each section of hair that you are rolling is approximately 1-2 inch wide depending on how big you would like the waves to be. Lightly spritz each piece of hair with a heat protector spray before doing so.
Roll the front section that you had previously sectioned using a clip into small heated rollers. Allow all rollers to cool in the hair.
Sculpt waves with a comb to achieve the desired look. Spray with a little hairspray to hold.
Unroll the rollers from the front section of your hair and brush the hair gently. Pull the section taught for a few seconds and slowly allow it to relax until the ridges of the wave begin to show.
Place the curling iron so that the clip is beneath the wave and hold for 15 seconds. Repeat this step to the next undulation. To further deepen the wave you may pull the iron one way and the remaining hair the other.
 Simply brush through using a paddle brush to solidify the hairstyle and spray the hair with hairspray.
Credit: Asgar Saboo, London based celebrity hairstylist, has worked with some big names in the industry including Deepika Padukone, Karisma Kapoor and Hrithik Roshan