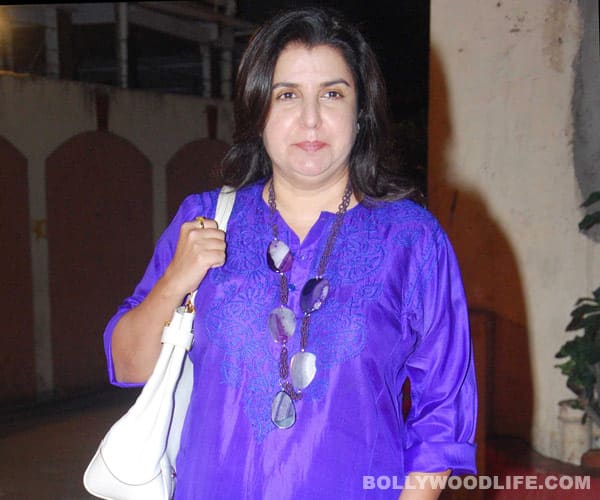 The 48-year-old director's search for a new face for her next starring Shahrukh Khan and maybe Prithviraj is still on. So this could be your big ticket to enter the big glam world of Bollywood…just get in touch with Farah Khan!
Director-choreographer Farah Khan's Happy New Year with Shahrukh Khan in the lead is invariably shrouded in rumour and speculation. While the lady seems to be cocksure that Shahrukh Khan is the main hero, she can't seem to make up her mind about who will play the female lead. Every other day the media mill buzzes wildly with stories of FK finally zeroing in on another young lady for HPN, from Parineeti Chopra to Sonakshi Sinha and, most recently, Katrina Kaif. But before the news even sinks in, Khan announced that she is still on the prowl, hungry to get a face on board that complements SRK's charismatic personality.
The movie will not only star Shahrukh, but other actors too; it's a multi-starrer, we hear. If sensational media stories are to be believed, Prithviraj and Abhishek Bachchan are also a part of the film, but again, don't take our word for this one. The only news we can put our seal on is that King Khan is definitely going to be part of this interesting story – which is about a bunch of friends who want to participate in a dance competition, but can't shake their booty to save their lives. A bar dancer (the main lady) comes to the rescue, trains these dudes so that they are on par with the other skilled participants and….well, you can guess the rest for yourself.
So for a bar dancer, you need to have a rustic Chameli kind of an appeal. You need to be willing to display that gajra around your wrist and show off those cheeky dance moves. Your expressions should be desi to the core and, if you have to lip-sync to bawdy lingo that really scandalises the heck out of you, then bid goodbye to this opportunity of a lifetime.
For more information on the role, get in touch with the super-talented Farah Khan…