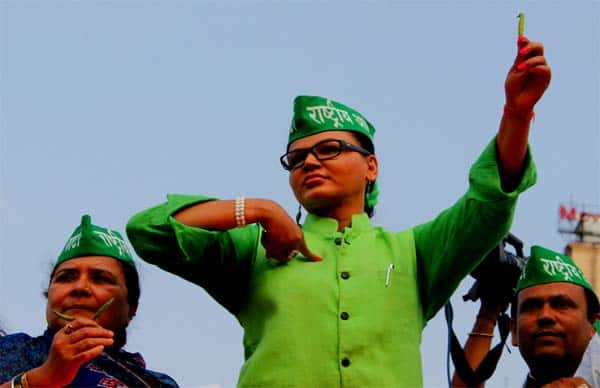 After tasting defeat in the recently concluded Lok Sabha elections Miss Sawant is now all set to sell her Mirchi costume. We hope Rakhi will at least get a taker now, at least for her costume. Tell us if you are interested!
Rakhi Sawant went full gun blazing with her loud mouth and outrageous dressing sense to campaign for Aam Aadmi Party. Sadly, for Rakhi-and perhaps fortunately for the people in her constituency-the item gal, in the end, fetched only 1,195 votes. The numbers clearly suggested that not many took the babe and her political ideologies really seriously. But the next logical thing that Rakhi is going to take with utter seriousness is the forthcoming auction of her hari mirchi costume that stood for Rakhi's outspoken public persona and her teekhi zubaan.
We hope Rakhi will find a taker for her costume and the money collected (if at it gets sold, to begin with) from that 'noble' venture will help Rakhi to fund her party. Who knows Rakhi might as well be interested in making her hawtt..err mirchi hawtt presence in the next year too?