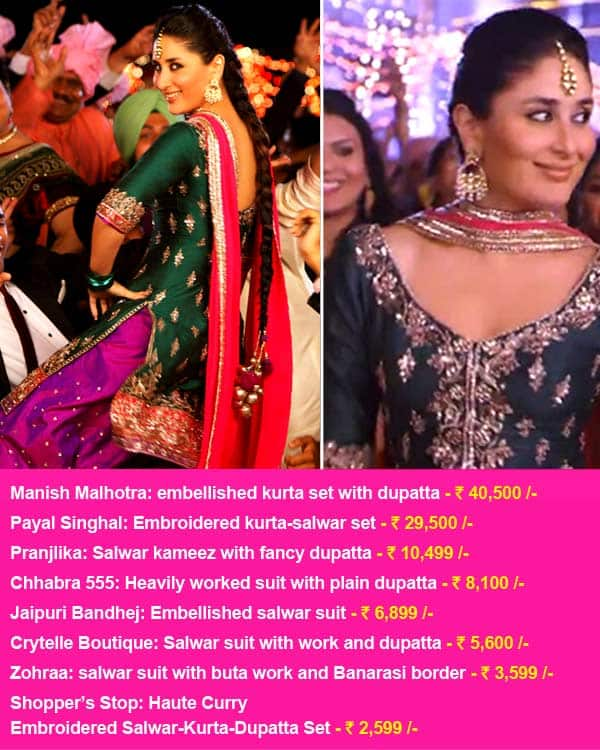 Maybe you can't because you don't have the Kapoor family genes, but you can wear a salwar kameez like she does in Tooh, from Gori Tere Pyaar Mein…
Kareena Kapoor Khan sure has a delectable tooh (aka behind) – yeah, and she shakes it happily in Tooh, the new song from Gori Tere Pyaar Mein. Watched the song yet? No? Take a look at Gori Tere Pyaar Mein song Tooh. And then tell us, do you want to look like KKK does in the get-down-and-jiggy number? Okay, now that we have that down straight, here is a suggestion – if you wanna shake your tooh dressed like our lady Begum, you need to go shopping asap. Try these alternatives and light your Diwali up.
And hey, you men out there, if you want your lady – mum, sister, girlfriend, wife, whoever – to look as gorgeous as Bebo does, spend a little money on her. Choose from these options:
Shoppers Stop: Haute Curry embroidered Salwar-Kurta-Dupatta Set – Rs. 2,599
Zohraa: salwar suit with buta work and Banarasi border – Rs 3,599
Manish Malhotra: embellished kurta set with dupatta – Rs 40,500
Payal Singhal: Embroidered kurta-salwar set – Rs 29,500
Jaipuri Bandhej: Embellished salwar suit – Rs 6,899
Chhabra 555: Heavily worked suit with plain dupatta – Rs 8,100
Crytelle Boutique: Salwar suit with work and dupatta – Rs 5,600
Pranjlika: Salwar kameez with fancy dupatta – Rs 10,499.
Will you buy any of this stuff?