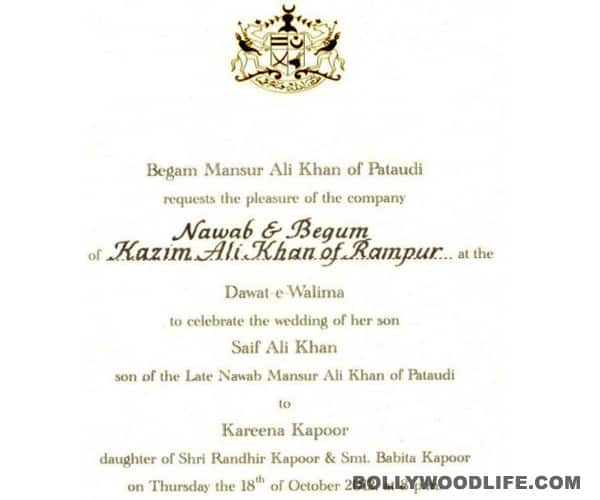 The most awaited wedding of the year is on the cards, literally. Take a look
Saif Ali Khan's mother, legendary actor Sharmila Tagore has always maintained that her son's marriage to Kareena Kapoor would not be an ostentatious affair. And going by the invitation card – yes, the one we managed to lay our hands on! – we can say that Saifu's mother has kept her promise. Here's the invite sent to Nawab and Begum Kazim Ali Khan of Rampur. It looks pretty simple, minimalistic and without any ostentation that is so usual with a big fat Indian wedding.
Saif and Kareena will tie the ceremonial knot on October 16. The customary reception called Dawat-e-Walima will be held on October 18, reads the royal invite. There are a couple of things about this invitation that grabbed our attention immediately. Extended from Saif's mother Sharmila, it refers to Kareena's to-be mother-in-law as Begum Mansoor Ali Khan Pataudi. Also,what looks to us as the royal insignia of the Pataudis at the top of the card, gives a touch of class and authenticity to the invite.
Also, a little birdie who is keeping a close watch on the proceedings of this royal ceremony tells us that the Pataudi palace is being renovated and decorated for the wedding, which will be a very private affair. But the reception that will follow in Mumbai will certainly be a star-studded gala, with the most glittering stars in B-town in attendance, we know.
That, we suppose, would be the perfect time for us to ask Saifeena where they are dashing to on their honeymoon!