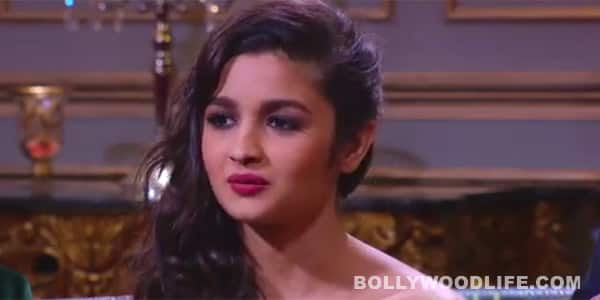 Students of the year Alia, Varun Dhawan and Sidharth Malhotra get together this week on the controversial black couch as Karan Johar asks leading questions…
So this week it's going to be Karan Johar's 'students' Varun Dhawan, Sidharth Malhotra and Alia Bhatt who will feature on the filmmaker's hit chat show Koffee With Karan 4. Watching the promo, we must say that this mentor is going to grill his students like never before! In the promo you see Karan asking Alia who is the better kisser, Varun or Sidharth? Now before the Bhatt gal could answer that provocative question, there comes another from Karan. The filmmaker wants to know, Sidharth has kissed her on-screen, but has Varun kissed Alia? Alia replies with a 'No'. But we, like Karan, don't quite believe that. After all, the pretty daughter of Mahesh Bhatt and Soni Razdan has been dating since she was 16, she said recently, so some coochie-cuddling must have happened. And a kiss these days is just a kiss, hai na? And then there were all those stories about the girl dating Varun, remember? So is Alia lying through her little white teeth?
Whatever the truth may be, the promo looks interesting. We are quite sure that the episode will be interesting too. Until it airs, catch the promo here and tell us what you think of it….
[flv]http://st1.bollywoodlife.com/wp-content/uploads/2013/12/Student-Of-The-Year-on-Koffee-With-Karan.flv[/flv]