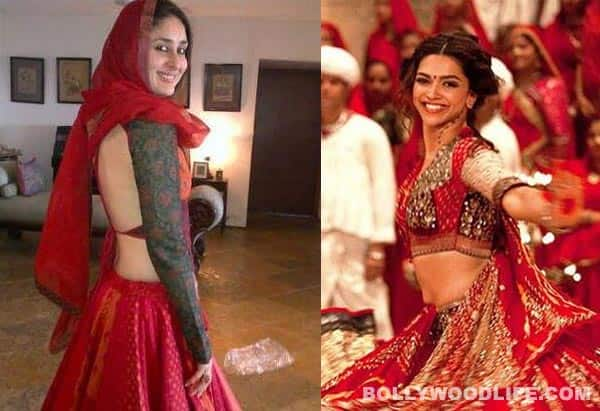 Earlier, Kareena was supposed to play Bhansali's Leela. However, she walked out and then Deepika was roped in. Who do you think looks better?
Reportedly, Deepika Padukone wasn't the first choice for Leela in Sanjay Leela Bhansali's Ram-Leela. Earlier, Kareena Kapoor Khan was supposed to play the role but she later opted out. Recently, Kareena's photo was posted on Twitter which stated that it was clicked while she was trying outfits for Ram-Leela. Whether that's true or not, do you think Bebo looks better in this ghagra choli than Deepika in the character of Leela?
In the film, Leela is a rebellious Gujarati girl, who is feisty with a mature touch. Hmmm… In Kareena's picture posted on Twitter, she looks more like a bubbly babe dressed in a desi style. At the same time, as soon as Deepika wears a lehenga, she somehow blends with the character of Leela. Well, it could be 'coz Bebo hasn't done the traditional makeup in this shot, which is why she fails to appease as Leela. However, we've also seen Deepika's pic clicked on the sets of Ram-Leela in between shots and she still looks more convincing.
While Kareena looks beautiful, Deepika looks like a true Indian beauty. Both the actors look glamorous in their own unique way. However, do you think was Deepika a better choice than Kareena? Do you think Bebo would've shared an equally sizzling chemistry with Ranveer Singh. So BollywoodLifers, tell us who looks better in the Leela avatar: Deepika or Kareena?