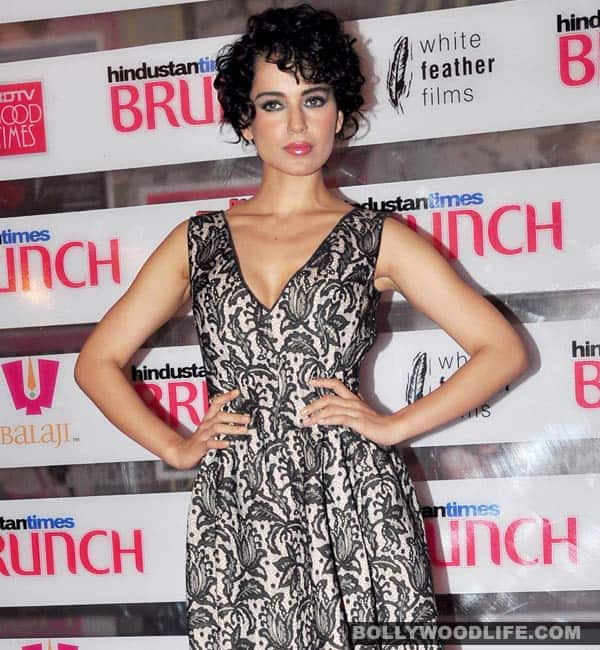 Kangana recently said in an interview that she opted out from Ghosh's next due to prior commitments. But as per the latest gossip, the story is entirely different
After Vidya Balan backed off from Sujoy Ghosh's film Durga Rani Singh, the talented filmmaker had no other choice but to look for a replacement. Soon reports about Kahaani director signing Kangana Ranaut for his film did the rounds. Later, the curly-haired babe confirmed the news and was looking forward to playing a challenging role in Sujoy's film. But then Kangs shocked everybody by ditching the project. Citing date issues, the Queen actor walked out from Durga Rani Singh. Well, that's what most media reports have been claiming but we hear that's not the case. Apparently, the co-producers of Sujoy's film weren't sure if Ms Ranaut would successfully pull off the character of a 35-year-old mother and that's why the starlet is no longer a part of Durga Rani Singh. This means the leggy lass was shown the exit door? Certainly sounds like that, no?
A source close to Sujoy told a leading daily, "Sujoy's co-producers wanted a more experienced actor for the lead role. They weren't too convinced that Kangana can do justice to the role of a 14-year-old paralytic girl … they wanted someone more mature."
Rumours are rife that Kareena Kapoor Khan will now step into Vidya's shoes. In fact, the markers are only waiting for Bebo to sign on the dotted line. In that case, we are happy for Ms Khan coz this film will surely change her box office status.