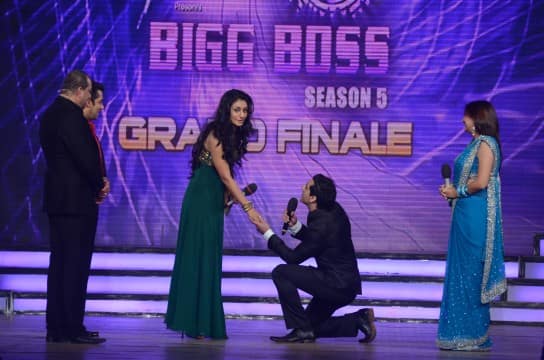 The much-talked about proposal at the Bigg Boss 5 finale might have a lot to do with the rumours about her close friendship with Salman Khan
When Mahek Chahal was on stage during the grand finale of Bigg Boss 5 and her boyfriend Danish Khan 'unexpectedly' proposed to her, she was not the only one who was surprised. We were too. Okay, so we know Mahek was not single but you will agree that this marriage proposal came out of nowhere on what was the biggest night of the professional life for her fellow housemate Juhi Parmar. Just when we were wondering if it was an attempt to steal Juhi's limelight, Mahek followed it up with another statement a few days after the finale. She told an interviewer that she is in no hurry to get married. Danish is based in Norway and Mahek wants to do some more work here before she settles down with him abroad.
If that is the case, then what was the reason behind this public proposal? Well, that's when it hit us. Ever since Mahek Chahal entered Bigg Boss 5, there have been rumours about her special friendship with the host of the show Salman Khan. The buzz was that she managed to enter the show and stay in the house for more than two months without being eliminated only because of Salman. Of course, she refuted all such claims when she was eliminated, but when she got back into the house as the wild card entry and managed to reach the finale, those rumours got even louder. Wethinks the public proposal was meant to distract the gossipmongers and shift their attention from the Mahek-Salman linkup to Mahek's relationship with Danish. We think she will need to sustain her efforts for a longer time if she really wants people to stop talking about her friendship with Sallu. What do you say?
ALSO READ: Juhi Parmar: Not sure what to do with Rs 1 crore!