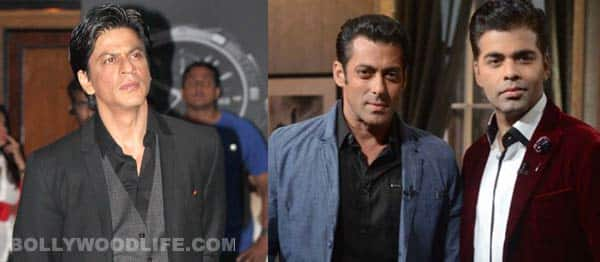 While SRK's arch rival appeared on KJo's chat show's opening episode this season, Shahrukh won't be a part of the season finale
This season of Karan Johar's popular chat show Koffee with Karan had odd and different pairs sharing the couch. However, Shahrukh Khan who has never missed to be a part of the previous seasons won't be seen on the show's finale episode. Koffee with Karan's season finale will be concluded with Alia Bhatt and Parineeti Chopra, we hear. Anyways, we wonder why SRK refused to be a part of his close friend's chat show, especially after being a part of the opening episode for two seasons and not missing the third season either. We hear that Shahrukh was even invited numerous times to honour the couch this season, but he kept refusing citing hectic schedule and work commitments. Did Salman Khan have anything to do with Shahrukh's constant refusal to budge from his decision?
Well, is Shahrukh really that busy that he couldn't spare a day for his once-upon-a-time best buddy? We doubt that. Wethinks that SRK is still upset with Karan for inviting his sworn enemy to honour the controversial couch. And that too for the opening episode. Wasn't that honour meant for SRK? We quite understand if that's why SRK is miffed with KJo. While we got to see the other Khans, Aamir and Salman on Koffee with Karan 4, we certainly missed having Shahrukh Khan on the couch. What about you, BollywoodLifers?