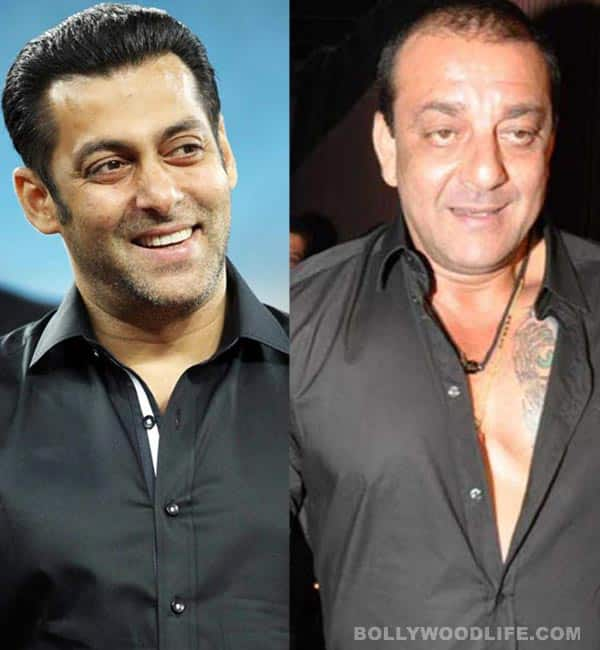 Sanjay is out on parole to look after his wife Manyata Dutt, who was diagnosed with a liver tumour, but took time out to be with his buddy on his 48th birthday…
Salman Khan had a very special guest at his Panvel farmhouse last week to celebrate his birthday. What was supposed to be Sallu's big 48th birthday party was indeed special, for close buddy Sanjay Dutt took time out from attending on unwell wife Manyata Dutt during his 30-day parole to be with the Jai Ho star on his janamdin. Buzz was that Salman had decided to bring in his next year at his farmhouse away from Mumbai and many Bollywood stars were expected to be there. There were some big surprises at this party – Bigg Boss 7 contestants Kushal Tandon, Armaan Kohli and Sallu's latest favourite blue-eyed beauty  Elli Avram were there. But the biggest surprise that Salman got must have been a khaas visit from dost and once co-host Sanjay Dutt. Sallu had extended a special invitation to Sanju, who has been keeping a low profile on both his furlough and his parole. Not many expected Dutt to stop by, since he was so plagued by a storm of controversy – first reports suggested that he had received alcohol while in prison and then there was a furor over his parole allowed so soon after his furlough. However, Sanju made an exception for his bhai. While Dutt avoided the glamorous party, he went to the farmhouse before any other guest arrived and spent a little quality time with Salman. Onlookers claim that Salman personally took his two-wheeler out to see off Dutt, all the way to the gates of his heavily guarded property.
Considering how the Dabangg Khan has been a solid friend and stood by Dutt in trying times, it wasn't really surprising to see Sanju make this exception and go out of his normal way to see his buddy. Dost ho to aise, hai na?