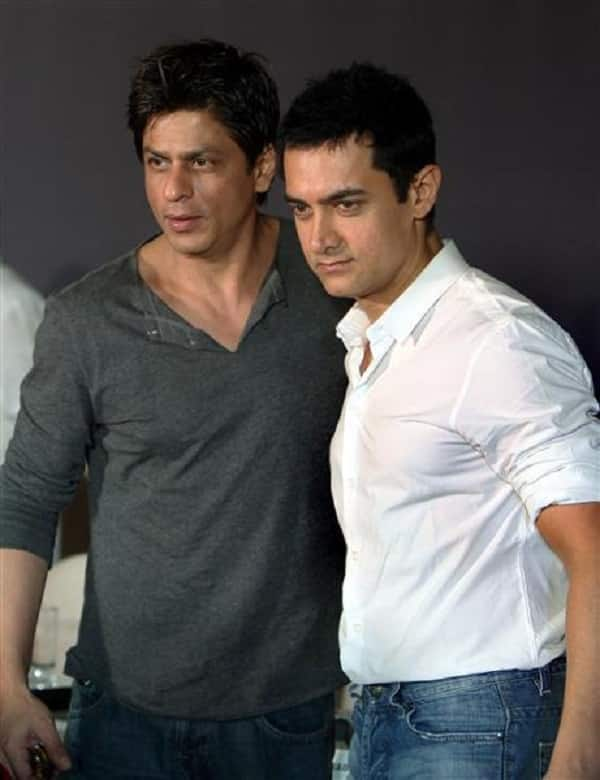 Rajkumar Hirani showed the controversial poster to Shah Rukh much before its release
A lot has been speculated about the rivalry between Aamir Khan and Shah Rukh Khan over the years, but in a recent interview with a leading daily, Shah Rukh rubbished all media conjectures.
While Shah Rukh unveiled the grand trailer of his upcoming Happy New Year last week, a lot of questions were thrown at the star regarding arch rival and contemporary actor Aamir Khan's dare-bare act in the PK poster. But in an interview to a daily, Shah Rukh claimed that he was the first Indian to have seen the PK poster.
When the media is busy deriving news content speculating of the alleged war between the two Khans, SRK seems to have dodged it every single time. And this time, he also clearly revealed that although the media thinks that he and Aamir are having fights, the real story is altogether different. Aamir and SRK are regularly in touch and Rajkumar Hirani, being one of their closest friends showed Shah Rukh the controversial poster of 'PK' days before it was revealed to the audience.
After the PK poster sparked a lot of controversies, Aamir had come out clean saying it was not to garner cheap publicity but there was a valid reason behind the nudity in the poster. And Shah Rukh seems to second his friend Aamir confirming that he knows the reason why the poster showed Aamir in the buff!
Also read: SRK feels Happy New Year can compete with any Hollywood flick
This definitely is enough to put an end to all the staggering questions of competition and insecurity that we keep flooding both the actors. And we believe, SRK will also be the first person to even watch the entire film!