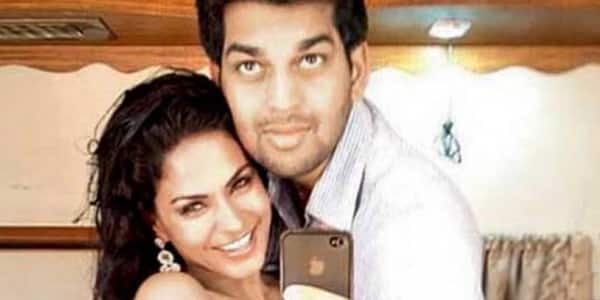 It's no news that the recently married actor is controversy's favourite child. We bring to you another scoop that will leave you bewildered…
We all know that Veena Malik does everything to stay in the headlines and this time, the skeletons of her closet have popped out to ruin her marriage. She recently married Pakistani businessman Asad Khan and we thought that the controversies would lay low for some time. However, Veena's escapades in her past continue to keep us entertained.
Now the story is, that a few days back a guy called Prashant Singh filed a complaint against her saying that she threatened him and his mom over the phone. She allegedly, also threatened to accuse him of rape and molestation charges, if he speaks to anyone about their relationship. Veena on the other hand, obviously has a different story to tell. The Pakistani heroine is trying to save her face by claiming that not only is Prashant just a staff member who loved to click pictures with her, he is also gay!
Now as much as this story might fool her husband, we think this story is as true as Salman Khan being a virgin. Tch.. Tch.. wethinks it's a terrible way of attracting media attention! What with her being married, she should think about her hubby's izzat atleast! Haina, peeps?