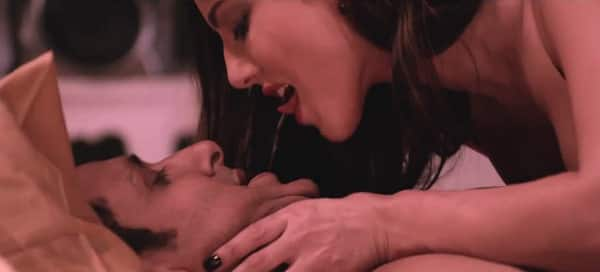 We have not yet come across the adult star turned Bollywood heroine's sex tape, but here's one steamy kiss that you might have never seen in Bollywood films
Sunny Leone ups the sex quotient in Ragini MMS 2, no doubt then we see the ex-porn star's bold image on full display in the latest video from the film. And guess what, sexy Sunny's co-star admits that he had a fun time kissing this babe. The Jackpot heroine has tried hard to stay away from her bold image, however looks like producer Ekta Kapoor plans to milk Ms Leone's popularity as an adult star to the fullest. So much that in the latest 'Kiss and tell' video you will be surprised to see explicit scenes. Both Sunny and her co-star Saahil seem comfortable sharing this intimate and looooong kiss!
In fact, Saahil describes this scene in the video too and has no issues discussing the details. The actor says he shared a sensuous kiss with sexy Sunny Leone and it was 'fun'. Prem says, "It was supposed to be a very sensuous kiss, I can't deny it wasn't fun. I'm sure Sunny was having fun, I was having fun. The crew didn't call cut for a very long time so we kept kissing thinking they are gonna call cut. , so we kept kissing."
And at the end you can't miss the satisfaction on the face of the man who calls 'cut' and declares, "First class mujhe dikhaaeye shot."
We're sure that Sunny's arousing kiss will take everyone by storm. Wethinks, it's time to move over Mallika Sherawat and the rest of the bold babes, Sunny definitely is on top of her game!
We're sure Sunny Leone's Kiss and tell video from Ragini MMS 2 will go viral soon!