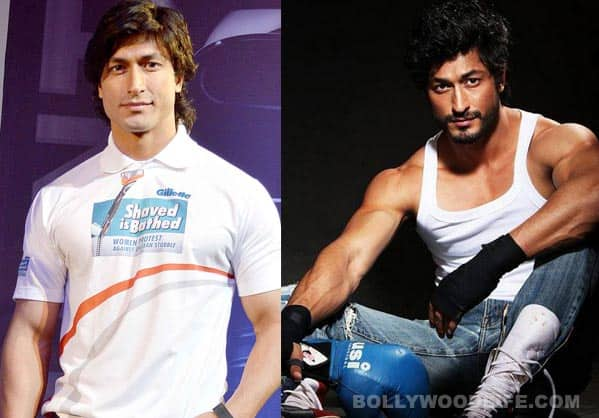 After his macho Commando image, the fabulously fit actor has gone clean-shaven – remember him in Bullett Raja? We met Vidyut to find out whether he plans to shed his rugged persona to portray a chocolate hero. Which would you prefer? Watch the video and tell us…
Viduyt Jamwal stunned us into silence with his unbelievable action moves and incredibly sculpted body in Commando. The 33-year-old is fast emerging on the Bollywood map as the real action hero who can take on dozens of opponents with his solid punches and high-flying kicks. But we were surprised to see the good looking lad sporting a clean shaven avatar these days. How did this smooth transition from rugged hero to clean-shaven man happen? "I believe you have to be rugged from within. You can be macho by being clean shaven too. And I prove the point," said Vidyut, who is gearing up for his next, Commando 2. Sadly, the film has been pushed back a few months since heroine Pooja Chopra was recently badly hurt when a window collapsed on her legs.
So how does one of the fittest hunks in Bollywood keep himself beautiful within? Surely it is not all due to his extensive training in Kalaripayattu, is it? "It has a lot to do with the way you think. It's not about how you are physically. I believe what you think – you become that. It's about how hygienic you are not just outwardly, but how clean you are in your head," explained Vidyut. The man believes that he doesn't have to grow facial fuzz to look strong. In the sequel to Commando too he will maintain this smooth-faced look; after all, he firmly believes that one doesn't need to grow a stubble or a beard to look outright macho!
We always thought Vidyut to be very warm and gentle. He loves to interact with his fans and enjoys the attention he has been showered with after playing a rough-and-tough guy in Force, Commando and Bullett Raja. But is he a softie at heart? "I think I am a nice guy at heart, for sure – if a nice guy is a softie, then you can call me a softie. What you see on the screen and off it as a martial artist is me, because that's what I do. That's what I have been trained to do. But niceness doesn't change who you are," said Vidyut.
Jamwal is the only Bollywood star whose film (Commando) has been selected for screening at the Fantasia International Film Festival, which introduced some of the biggest action stars to the world, including Li and Byung-Hun, who went on to become big names in Hollywood. So will Vidyut aim to set a new benchmark for the action genre in Indian movies with his next? How is the hunk gearing up for it? "I am excited about Commando 2. The barometer has been set now. People have greater expectations from the film, as they have seen the kind of action this movie can guarantee. All I can say at the moment is that Commando 2 will be better, bigger and a lot more entertaining," assured India's latest action hero.