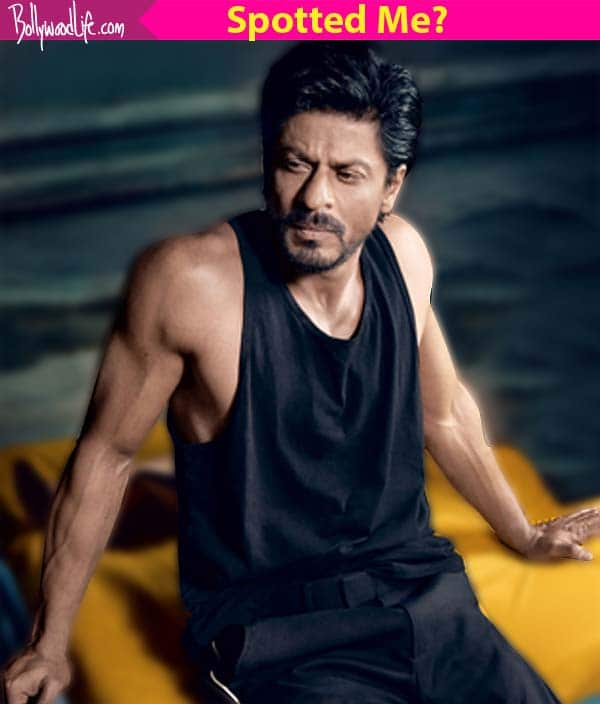 Yay!!! Karan Johar take a bow you are a marketing mastermind. After keeping Shah Rukh Khan underwraps you just gave us a massive tease of the superstar in Ae Dil Hai Mushkil trailer today. Now we know that Aishwarya Rai Bachchan, Ranbir Kapoor and Anushka Sharma are the protagonists in ADHM. We also know that Pakistani import, Fawad Khan is in the supporting cast. BollywoodLife was the first to reveal that SRK has stepped into Saif Ali Khan's shoes for the cameo. But what we didn't know is that KJo planned to showcase us just enough of SRK in the trailer to make us super excited for Diwali. Also read: 5 moments from Ae Dil Hai Mushkil trailer that literally made us say OH WOW!
We bet like us if you're a true blue SRK fan then there's now way you're gonna miss King Khan. The trailer primarily focusses on Ranbir Kapoor's one sided love for Anushka, Anushka's complicated relationship with Fawad and Aishwarya Rai's bold confessions about being someones want and not their need. We also know that Karan's this film is about strong bonds, unrequited love and complications in life. SRK is playing Aishwarya's husband in this film. The blue-eyed beauty will be seen as a failed poet Saba Taliyar Khan. And from her character's name we assume that Shah Rukh's character is called Taliyar Khan. Here watch the trailer and tell us if you spotted SRK…

Duh uh! Missed King Khan's starry presence here take a look…

Well, the trailer kind of revealed the plot of the film. Looks like this will be one helluva lovestory and Ranbir Kapoor will revive his career post this film RK will come out as the ultimate lover boy. His adorable portrayal of Ayan is going to remind you of Yeh Jawaani Hai Deewani. In fact, ADHM has the Dharma trademark and is one of the most beautiful looking films to come out in recent time. What's also appealing about this film is that it's not just beauty Karan has managed a good bunch of talent, which makes it even more exciting.  (Also read: Aishwarya Rai Bachchan is stealing Anushka Sharma's thunder in Ae Dil Hai Mushkil with her swag!)
While Karan might not reveal SRK's role in the film, we did manage to find SRK's presence in the Bulleya song as well. Yes the focus might have been on Ranbir and Aishwarya's hot lovemaking scenes. But there's one bit where Ash and RK are dinning in a restaurant and the note Ash receives is from Shah Rukh. We also found out that such was SRK and Karan's rapport on sets that it became the hot topic of discussion between shots. Karan and Shah Rukh's understanding of each others craft was almost magic. And at the end of one such scene we hear Ranbir couldn't help but go ga-ga about it. Apparently the actor felt that SRK and Karan's bond should be a rapport between any hero and his director.
For now we're sure like us you too are excitedly waiting for Diwali. But do come back for more on SRK, Ae Dil Hai Mushkil and other Bollywood news and gossip.