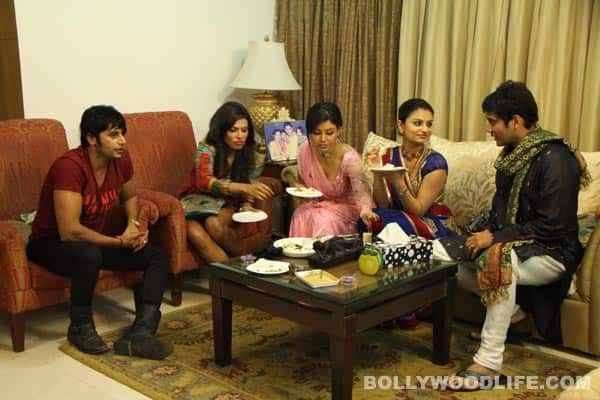 skip advertisement
The first week of the show has been quite a roller coaster ride, and looks like the second week will be adding a lot more spice and tadka to it
Welcome-Baazi Mehmaan Nawaazi Ki week one had Ragini Khanna, Nigaar Khan, Sanaya Irani, DJ Andy and Manoj Tiwari cooking for one another and trying to play the perfect hosts. Not that any of them achieved it without glitches, but their antics surely entertained us, no? In the first week, the women namely Ragini and Nigaar were at each other's throats, Manoj behaved like a toddler spoilt for choice, while Andy trying to play the pacifier just got on everyone's nerves. Basically, Sanaya was probably the only one who managed to behave sane – if you ask us!
Now, if week two promos are anything to go by, then believe us when we say that things are going to heat up – if you know what we mean! The second week will have stars like Karanvir Bohra (Saubhagyavati Bhava), Dimpy Mahajan (Nach Baliye 5), Amar Updhyay (Bigg Boss 5), Debina Bonnerjee (Chidiya Ghar) and Giselle Thakral (Survivors India).
So here's what would be happening on the show: Debina and Dimpy, who are friends from before, gang up against the only single person in the group, Giselle. Coming from the modeling world, Giselle is known for her long legs and pouty lips – and everyone gives her enough footage. The guys Karanvir and Amar are obviously smitten, and shower all the girls with ample attention. Especially Karanvir, who flirts left, right and center at every opportunity he gets. Guess its all in the spirit of the game. You wish! Wonder how Rahul Mahajan, Teejay Sidhu and Gurmeet Choudhary will react once they see the episodes. Your guess is as good as ours!
The third day during Debina's turn to host the evening, things apparently go from just war of words to actual fistfights. If only the men hadn't intervened, we would have caught the girl-fight live with all the hair pulling et al. Apparently, Dimpy insults Giselle about her class, status and dressing sense, who in return says a few things about her marriage to Rahul. Oooops! Now instead of pouring cold water on the fight, the other contestants simply add more fuel to the already blazing fire. Bitchy, right!
Things don't get any better even as Ram Kapoor intervenes. While he takes the opportunity to flirt with Giselle, he is also proud of her 'coz in spite of all the bad air among the contestants, she votes everyone purely on their cooking and entertainment value. Very nice girl!
All in all, we recommend you catch the show to witness the melodramatic drama with your own eyes. 'Coz there's definitely a lot more 'cooking' than just food.
Welcome-Baazi Mehmaan Nawaazi Ki is telecast from Monday-Saturday at 10 pm