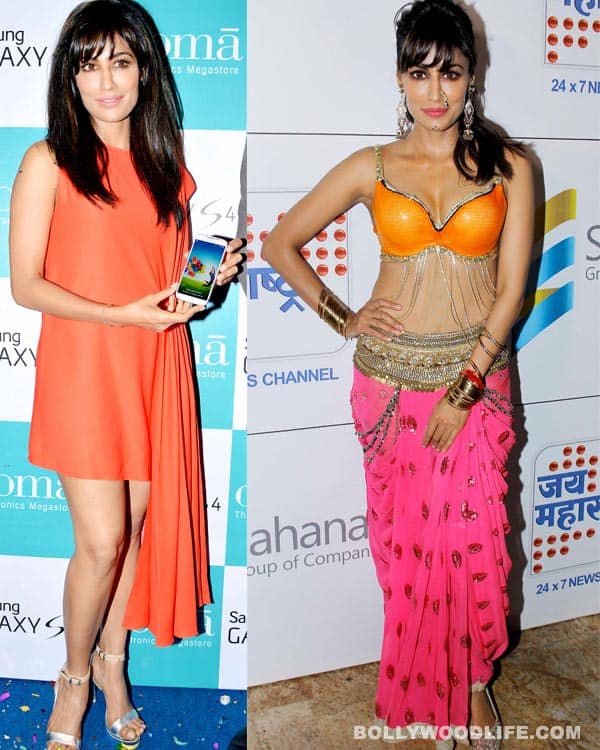 The babe seems to be smitten with the colour – she has been sporting this shade a li'l more than usual lately
Chitrangda Singh was seen in a lovely Christian Dior outfit at the launch of the Samsung S4 recently. The petite babe that she is, she carried the Spring 2013 creation with great style and attitude. The fan-like drape extending from the waist down to the ankle looks very unusual. Rooting the visual delight in a fashionable pair of shiny Cinderella-like stilettos is definitely our idea of a good style choice.
We would have gone on and on with the raves…and then we saw the babe make a hash of the tangerine statement at the launch of the new Jai Maharashtra TV channel. Chitrangda performed on stage wearing a bright neon-orange itsy-bitsy blouse and a pleasantly soothing pink navvari styled bottom. While we love the way the saree is modified sexily with a thick gold band at the waistline, the orange blouse is jarring to the eye. It's like a dish that had great potential to taste delicious, but was ruined by the cook adding the wrong flavour in the tadka. Waist-down she is very Maharashtrian, which is totally apt for the event, but waist-up she looks like a disaster. The colour-blocking technique doesn't work here and neither does that hideous blouse. Looks like it's time for Ms Singh to take a teeny-weeny break from this mood-uplifting shade.