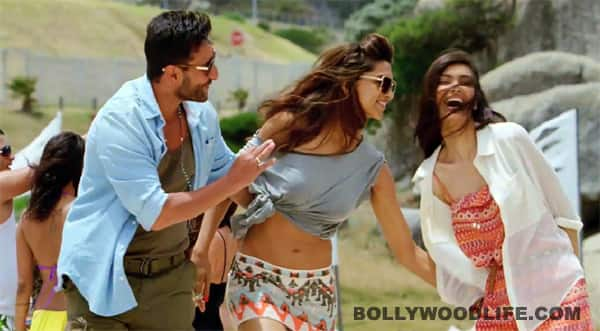 The makers of the Saif Ali Khan-Deepika Padukone-Diana Penty-starrer have come out with teaser videos introducing the main characters
But for Saif Ali Khan's cheesy opening line in the trailer of Homi Adajania's rom-com Cocktail, we found the rest of it quite amusing. Though it did seem to have a hangover of Saif's previous romantic outing Love Aaj Kal, the crackling chemistry between the lead actors of Cocktail makes it a refreshing watch. We particularly liked Deepika as Veronica and we cracked up when a bewildered Diana Penty asks Dippy about her missing pants. We've put together the character introduction videos for you.
Saif Ali Khan as Gautam
A dude from Delhi, his nickname in Cocktail is Gutlu. He is totally in awe of the women in London. Gautam belongs to the old-school as he thinks that being a good dancer is 'a bit gay'. He'd rather let the girl dance while he 'hangs by the bar' and enjoys his drink. He also seems to like Boman's character most.
Deepika Padukone as Veronica
A party animal, she likes living life on the edge. Veronica is an adrenaline junkie who loves to travel. She loves drinking and cures her hangover with either chicken or mutton biriyani accompanied by yoghurt. Her favourite colour is black and this bikini babe is very comfortable in her skin, quite literally.
Diana Penty as Meera
In her own words, she is the kind of girl whom the guys would like to take home to introduce to their mothers. So far Meera has had a boring existence, but is very excited yet nervous about moving from Delhi to London to start life afresh. She thinks she is a good dancer, but only when nobody is watching.
Will Meera be inspired by Veronica's footloose and fancy free way of life? Wethinks the makers of Cocktail have a winner on their hands; do you agree?