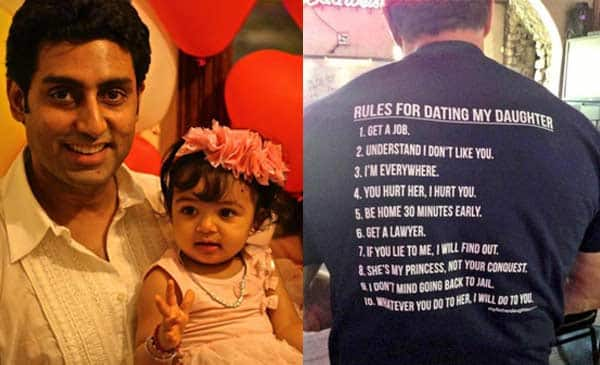 AB Jr's daughter is only over two years of age, but he's already a possessive dad
Abhishek Bachchan and Aishwarya Rai Bachchan's lil one Aaradhya Bachchan is not even two-and-half years of age, and daddy Abhi has set dating rules for her! Abhishek shared a picture which says 'Rules for dating my daughter." The Dhoom actor is very possessive of his daughter Aaradhya it seems, and he even talks fondly of her. In one interview, Abhi had asked the media to respect his lil one's life and let her live like any other toddler of her age.
Anyways, in the image that he tweeted, the rules are very funny! One rule states, "Understand I don't like you." Well, most dads hate their daughter's boyfriends, hai na? Giggles! Another rule is, "You hurt her, I hurt you." Awww! And yet another one says, "I don't mind going back to jail." Well, well! If and when Aaradhya chooses to date, the guy is gonna have a tough time. The weirdest of all the rules is, "Whatever you do to her, I will do to you."
Well, take a look at all the rules set by Abhishek for dating his daughter. It seems least likely that any of you, readers, are eligible candidates anyways. And the eligible ones are certainly least likely to read these rules 'coz we doubt they can read and write yet. Wink, wink!
"@atulkasbekar: Rules for Dating My Daughter… 🙂 pic.twitter.com/7n3NTU8ZJa" —hahaha, HILARIOUS!!

— Abhishek Bachchan (@juniorbachchan) March 12, 2014