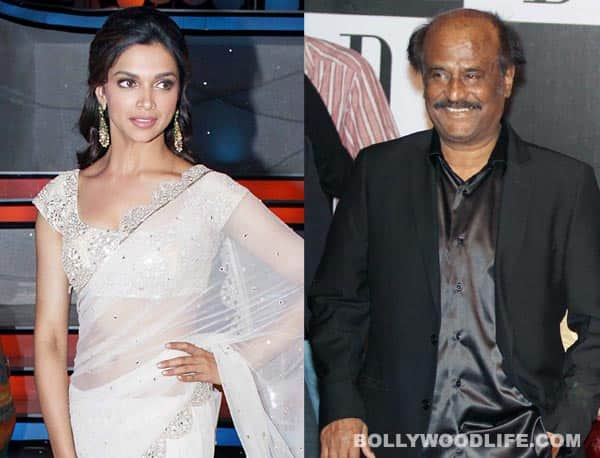 Praises come by the bucketful for Deepika Padukone with the generous dose of optical delight the leggy lass provides every time she appears on the big screen. Sadly, we hardly ever hear people talk in affirmations as far as Dippy's acting skills are concerned, but we think the lovely lass should not lose hope – after all, she can learn quite a lot from her Kochadaiyaan co-star, Rajinikanth. He has already started teaching….
So what does Deepika Padukone do so well that she stays in the news? We all know that she is not one of the best actors we have in B-town. Neither is she an extraordinary dancer, nor does she slip into a character effortlessly or emote with amazing fluidity. What Deepika does with an absolute ease – and to the best of her ability – is to look good, all the time! And those drop-dead gorgeous looks, of course, have helped Dippy nab rich and fabulously wealthy men, even more meaty films and oodles of controversy. Not necessarily in that order, but the cycle of her life goes on to make sure that the 27-year-old stays in the media glare.
So where does the 'inherently cultivated' actor in her stand? Frankly speaking, nowhere! But Deepika the actor should not lose hope, certainly not yet! We all know that she is doing the much talked about film Kochadaiyaan with none other than the country's supremely popular superstar, the demigod of cinema himself: Rajinikanth! What better teacher can Deepika have to learn all those skills she can only hope to acquire in her dreams.
There's no doubt in our collective minds that Rajinikanth holds the potential to transform the babe – any babe – overnight. From projecting a range of theatrical expressions to getting her diction right (mind it!) and from flicking a cigar in the air while dodging a storm of bullets to bludgeoning a thousand men single-handedly, simultaneously, with the aforementioned cigar finding its original perch in his mouth with clinical precision, Rajini sir can certainly make our long-legged lady an omnipotent star.
And if you think that Dippy's dancing is mechanical, Rajnikanth can teach her those high-voltage, dramatic dance moves that will metamorphose the girl into a livewire. But more than anything else, the South Superstar will teach Dippy how to put the character before and above everything else, to become the actor she always hoped to be.
Don't you agree?