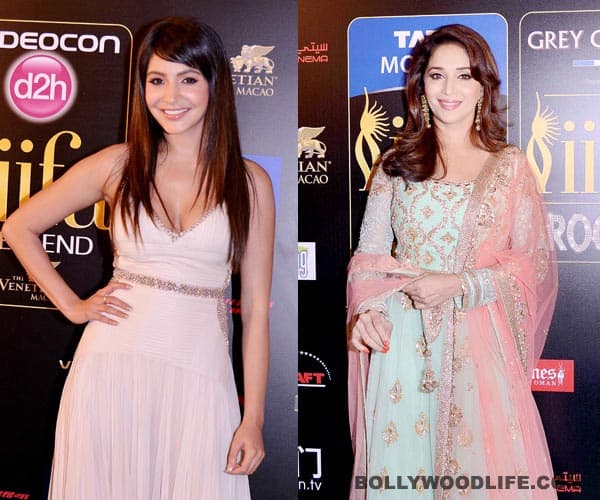 We've heard about how fans go weak in the knees when they see their favourite stars – is Anushka a Madhuri fan-girl?
We've all seen fans screaming, leaping about and going absolutely gaga when they watch their favourite stars in action, on stage or just walking down the road. And Anushka Sharma had one such fan moment at the recently held IIFA Awards in Macau. The actor was dressed in a flowing ivory Roberto Cavalli dress and was in the middle of doing interviews when she heard the announcement of Madhuri Dixit-Nene's performance. Anushka couldn't bear to miss the dhak-dhak diva in action and ran towards the stage, but had a minor wardrobe malfunction when her gown tore as it got caught on a piece of metal that was jutting out of a beam en route. But that didn't ruin the exciting moment for Anushka and she continued watching Madhuri dance live on stage from the audience, a big smile on her pretty face. This is one fan reaction that onlookers at IIFA will remember, we know!
But it's not just Anushka that we've have seen go mad about Madhuri these days, so long after she took time out from the big screen. Remember watching Ranbir Kapoor, Ranveer Singh, Priyanka Chopra, Shahrukh Khan and so many others become mesmerised by the Madhuri magic as she sang, danced, or just smiled as she judged dancers on Jhalak Dikhhla Jaa?