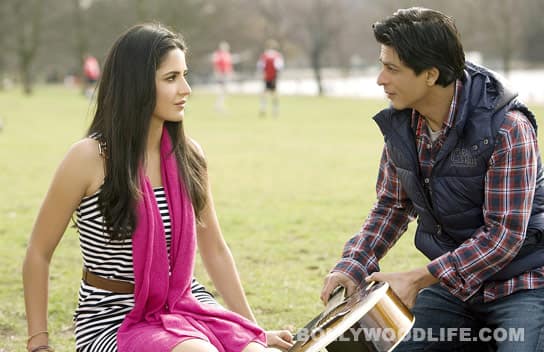 The King Khan is mighty impressed by the 'Chikni Chameli' chick and says that it was a learning experience acting with her in the Yash Chopra film
There has been a lot of buzz about Yash Chopra's comeback as a director with his favourite actor, Shahrukh Khan, that too after a gap of eight years . Things got exciting when Katrina Kaif was paired with SRK in a first-time partnership. Soon after, Anushka Sharma, the King Khan's Rab Ne Bana Di Jodi co-star was taken on board and speculation about the 'Kat' fights (pun intended) began. Unfortunately, no such squabbles have been reported so far, but we are keeping our ears open to learn about them and share them with you here.
The cast of the yet-untitled film is back after the first shooting schedule in London and SRK is all praise for his leading lady. We are not totally sure if he means what he says, because he had said similar things about Anushka when RNBDJ was about to release. In a recent interview, Shahrukh enthused, "When Katrina is doing a scene, she has a different way of approaching it and when she approaches it differently, as a co-actor I also try to think if she is doing it differently there must be a reason, so let me also try it and adapt myself to do it differently. So that give and take has been absolutely fantastic."
SRK is probably Kat's first co-star who is raving about her acting skills, because most of the others have only spoken about how hardworking she is and may be how nice she has been to them, so this is a first. Another first is how Ms K has managed to keep her relationships with former lover Salman Khan and present co-star Shahrukh in their own spaces, with little overlap, if any at all. Add one more virtue to Kat's list!
ALSO READ: Shahrukh Khan in elite company as Yale Chubb Fellow