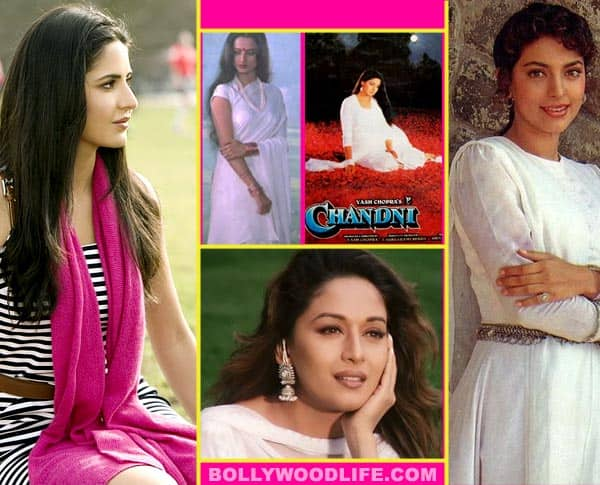 Ethereal and tough, gorgeous and courageous – she had to possess certain qualities to be Yash chopra's special white-sari muse, his special heroine
The king of romance Yash Chopra dazzled us with his profound interpretations. Although the whole world raves about how amazingly he portrayed love on the big screen, what we really found admirable about the veteran filmmaker is the way he chose a white sari – usually in gauzy, ethereal chiffon – to showcase positive qualities such as courage, beauty and integrity. If Sridevi battled hardships in her relationship in Chandni, Madhuri Dixit dealt with her love problems bravely in Dil To Pagal Hain – that's how women in white saris were portrayed in Yash Chopra films; they didn't just dance gracefully, but also faced the world with an enviable sense of confidence. Mr Chopra wanted his heroines to not just look beautiful, but also be strong enough and stay calm in the face of adversity.  And he wanted a pristine style statement to be that source of strength and a symbol of it.
Although every gorgeous B-town beauty desperately aspired (and still aspires, we know) to slip into a virgin white sari, very few have been given the opportunity to do so. We don't know how Chopra chose the one who would wear the traditional garb, but we think his instinct played a major role in deciding the woman who could symbolise goddess-like courage and charm. Madhuri, Sridevi, Juhi – they all represented the symbolic qualities of that white sari in their own distinct way.
Although the director who transported us to a magical world through his movies passed away last evening, his values and style will linger. We have been eager for quite a while to know which of his heroines –Katrina or Anushka was his final choice for that pristine drape. And we discovered that Katrina Kaif got the last chance to be the romantic director's special muse. Designer Manish Malhotra tweeted recently that the director was planning to shoot a song with Kaif at his favourite location- the Swiss Alps. And Malhotra reminisced about how Chopra used to discuss saris with sheer passion with him.
We are sure there will inevitably be many imitations of the famous scene set in the snowy Alps with the heroine wearing a white chiffon sari that floats along a soft breeze, but we doubt if anybody will be able to recreate Chopra's enchanted vision.