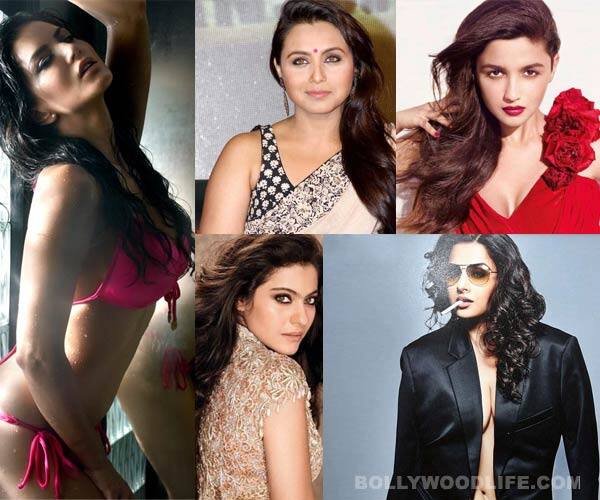 skip advertisement
We present to you a mish-mash of top 5 Bollywood shorties, old and new, whose height hasn't held them back
Tall is beautiful. That seemed to be the trend set by actors like Katrina Kaif, Deepika Padukone and Anushka Sharma.
These leggy lasses tower over their comparatively short co-actors and we can say with some certainty that actors like Aamir Khan and Shahrukh Khan miss their shorter co-stars who didn't make them play fetch for hidden high heeled shoes. Some of these coveted babes are so unrealistically tall (read Anushka or Deepika) that it would break your hearts and prick your egos. But it's not just the predecessors of these long-legged beauties who were short. Bollywood is welcoming the newer-new generation of actors who might not be as tall as some of their contemporaries but still pose a serious threat to the likes of Dippy and Kat. The ideal of feminine beauty is changing yet again. Do these short-circuits have it in them to make their taller peers bend their backs? Read on to find out…
Alia Bhatt- This shorty who stands the tallest in this list at 5'5", struck gold with KJo's Student Of The Year in 2012 and is now ruling the box office with Arjun Kapoor for 2 States. Her baby-face is quite deceptive as her co-actor Arjun claimed that she is much more mature than her age. As far as style is considered, though Alia's dressing sense isn't path-breaking it's not an eyesore either. But we would like to advice her to avoid wearing flats as much as possible because they just make her legs look chunky.
Sunny Leone- This ex-pornstar is 5'3" tall and she has put every other skinny actor in B-Town to shame. Her recent horrex Ragini MMS 2 redefined eroticism and we just cannot get over how her 5'3" frame can hold so much sexiness! Her luscious body exudes oomph that makes men go crazy and women jelly. Did you know that this beauty is also a passionate dog-lover and has worked for PETA? She will be seen next hosting Splitsvilla and we cannot wait to have her hotness scorch the screens. Move over Anushka and Deepika, its Sunny's seduction we dig.
Rani Mukerji- This newlywed Bollywood babe stands to be the shortest in this list at a height of 5'2"! She recently got hitched to long term beau Aditya Chopra and after having been reticent for years on the topic of her relationship with Adi, she finally confessed that her wedding was like a fairy tale coming to life. Though in the past, her jodi with Abhishek Bachchan was voted upon by all the Bollybuffs because the pair reminded us of Amitabh and Jaya from the yesteryears, their love didn't last for long. Interestingly, Abhi is the tallest actor Rani has been paired with in not one but nine films! Perhaps the height difference made this couple all the more endearing.
Vidya Balan- The Kahaani actor is as tall as the bootylicious Sunny Leone but she is certainly a different kind of sexy. Despite her god-awful dressing sense as far as western clothing is concerned, we love Vidya. Though her short height teamed with her chubby physique is often used by her haters as a tool to make unpleasant remarks but we can tell that these haters are simply green with envy. We think that Vidya's charm lies in her routine, everyday, regular woman wala image that makes her so life-like. She stands out like a diamond in the sand that consists of her size-zero peers. And she is so jolly that we could put her right in a pocket!
Kajol- The Baazigar babe shares the same height as her cousin Rani but unlike her Kajol seems to care quite a bit about her height. She always wears heels in public and doesn't like to look short when she stands next to Ajay Devgan. And this shorty is quite obsessed with her high heels too. Though vivacious in every public appearance she makes, Kajol is exceedingly conscious about her height. We really wonder why! Kajol is just so adorable that we wouldn't want to change a thing about her. Don't give a damn about height Kajol, you are god-honest gorgeous as you are!