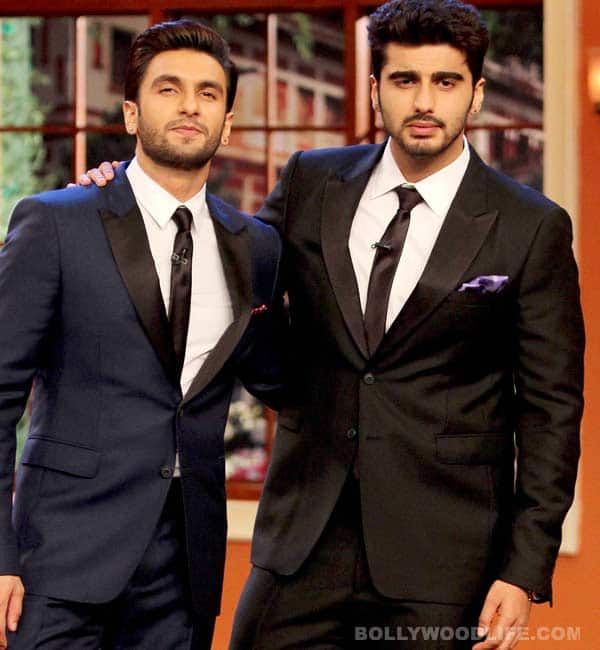 Arjun Kapoor and Ranveer Singh, who declared themselves virgins on national TV, now talk about lust, sex and threesomes!
Foreword
As I sit down to pen this article, I get a call from the studio Yashraj Films' rep, 'instructing' me gently 'tone down' my interview. I am told politely that Gunday is not a sex comedy like Grand Masti (errrm… didn't need that pointed out but whatever…) and I shouldn't project it in the wrong light. I am tempted to tell them that I don't belong to the media moron brigade and don't like to be told how to do my job. I am further informed that the production house doesn't like to project such 'overt sexuality' in their films as their mindset is slightly 'conservative.' (Clearly they have got amnesia. Don't all YRF films have the mandatory bikini babes and French kisses in practically all their films?) I am told all this after I step out of the YRF premises as they were 'too embarrassed' to tell me when I was doing the interview. Throwing their instructions to the wind I decide to write the article as I had envisioned it. Leaving it to you dear reader to judge the 'sexual' overtones — or lack of it!
The Gunday boys…
Ranveer Singh (boisterous, motormouth and over-enthusiastic) and Arjun Kapoor (shy, man of few words and reserved) are as similar as chalk and cheese. But when they are together, there is no clash. They complement each other. They finish each other's sentences, poke fun at each other, and have genuine fondness for each other. I hate to be a sceptic but such filmi friendships come with an expiry date, which rarely lasts past the release date.
But today they are friends, and that is all that matters. They appear to have swapped their personalities too. During the course of the interview, at times Arjun gets more talkative and Ranveer takes a backseat. Then again, Ranveer's racy humour and candid revelations come pouring out, leaving Arjun squirming and grumbling. Over to the Gunday boys:
What is Gunday about?
Arjun: It's about havas or lust (Ranveer laughs). It's pretty self-explanatory. My first word for your interview is havas! On a serious note, Gunday for me is essentially a story on brotherhood, an unbreakable bond. In our generation it has got lost somewhere. Friendship exists today but only on social networking websites and on mobile phones — it is more shallow that what it used to be.
The bond of being blood brothers, living an entire journey together, growing up and sharing each and every aspect of your life, being able to do anything and everything with that person, sharing each and every aspect of your life with the person — that level of brotherhood, bonding and friendship is for me what Gunday quintessentially is. Correct hai? (turns to Ranveer for assurance).
Ranveer: Correct hai… Gunday is awesome! What a film! Baba Kapoor (they call each other Baba Kapoor and Baba Singh) is awesome!
Are you gundas off screen?
Ranveer:  Hum bahut susheel aur shaant ladke hai (eyes twinkle mischievously).
Arjun: (Starts singing): Hum dono nanhe se, chote se, pyare se bachche hain… But in the film we are gundas!
Is it true that both of you wanted to do the other's role?
Ranveer: Arjun and I assumed that I would play the impetuous, volatile, fun-loving Bala and he would play the intense, brooding Bikram but Ali (the director) said I was playing Bikram and Arjun was Bala! He said there was no excitement for him or the audience if we played what we were in real life.
Arjun: When Adi decided to cast us, Ranveer was doing Ram-Leela and I was doing Aurangzeb where we were more or less playing ourselves. So obviously in Gunday we had to go into another zone. We impulsively went towards what personally attracts us but the Adi and Ali had the foresight to know what worked for the film as they saw the bigger picture.
In the film, both of you fall for Priyanka. What if you both fell for the same woman off-screen?
Arjun: I would say Jaa baba jaa, jee la apni zindagi…
Ranveer: The kind of mental sync and tuning we have at this stage, we don't even have to look at each other to know we are both attracted to a girl…
Arjun: Even if we both are looking at different directions… (Ranveer roars with laughter) Of course, neither of us ends up going anywhere as we are working. At this point when we are hanging out we are always working, so in a social situation we don't know how it will be. Forget what we want, we should ask the girl what she wants. We can have desires but the woman also has to have an opinion and a choice. Or can she? (looks at Ranveer wickedly).
Ranveer: I am not as sacrificing or thoughtful as Arjun. So I would take the first step and approach the girl. I will play on the front foot and Arjun will play on the back foot…Now whether she prefers the front or back foot guy…
Three qualities you dislike about each other?
Arjun: I think he doesn't show his intelligent side as often as he should which is for me a very big deterrent for him to be taken seriously in the future. That's what I keep telling him. He's overtly impulsive, which I feel can be detrimental in an actor's life — personally as well as professionally. These are emotional qualities. I have come to appreciate the energy that he brings and his attitude towards his work. I have made my peace with his bright clothes (laughs). I am wearing orange pants! Doesn't that explain how much he has rubbed off on me? Also, he's not a morning person. On sets he's a different animal but to get him on set is a journey and a saga!
Ranveer: He's a spendthrift.
Arjun: Baba, I have a spendthrift producer as my father. I love spending money.
Ranveer: I am conservative about money…
Arjun: He's a conservative Sindhi!
Ranveer: When he diets, I don't like his moods. He becomes very cranky and irritable. Between food and his DVD collection he doesn't need anything or anyone in the whole world. He can live his life very happily — just give him food and something to watch. Arjun is a loner and detached by nature so just maybe a couple of people are important to him in his life.
Arjun: I become very moody. I PMS when I am dieting so Ranveer is like, 'Just give this fat boy what he wants'! (both laugh).
Ranveer: And lastly, Arjun doesn't take the initiative as he's very laid-back when it comes to two things – career and women. Career is till okay, God willing everything will come to him because of his own hard work and will continue to do so but I would like to see him take some initiative with women. I will say just talk na, just send a message na, just go for it na!
Arjun: I am just too slow for this brash, impulsive man's liking. I have to agree that he's got that quality of go-and-approach-that girl because I am very shy when it comes to women and he's started infusing that quality in my life. So now when you see me talking to a woman you will know who has inspired me (grins).
Ranveer: And sometimes Arjun is too tolerant of inefficiency and unprofessionalism. He cuts people too much slack. Arjun is too kind.
Single guys have more fun. Agree?
Arjun: Yes. But it depends on your definition of fun. When you are single you are not answerable to anybody or owe any explanations to anybody.
Ranveer: True. I also have fun but single guys have more fun. But it's not that hooked guys can't have fun.
When two guys and a girl get together it is called…
Arjun: An awesome threesome!
Ranveer: A parrrrty!
At what age did you lose your virginity?
Ranveer: I can't even tell you (grins). It is illegal.
Arjun: I don't want to tell (coyly). At this point I will answer questions only relevant to Gunday! (jokingly)
Ranveer: Ok, I'll tell you what? I lost it before Arjun.
Arjun: Bada yeh hai (in Gunday) toh yeh pehla kiya tha… (Ranveer chuckles).
You have both worked with Priyanka and Parineeti. PC or Parineeti?
Ranveer: PC till February 14 because Gunday releases on that day and after Parineeti as on March 6 Parineeti and I resume work for Kill Dill.
Arjun: Baba tu kitna selfish hai re! For me it's Parineeti over PC for emotional reasons. She was the heroine in my first film.
Your all-time favorite action-thriller-drama? 
Ranveer: The original Agneepath and in Hollywood I love City Of God.
Arjun: Ram Lakhan is the quintessential film that has everything so it's my favourite. I also love Scarface for its drama.
Who has the better body between you three — Arjun, Ranveer and PC?
(Both shout in chorus) Priyanka Chopra!
Ranveer: Because she doesn't have to do anything much to maintain it. She's gifted. She is blessed with great metabolism…
Arjun: Ya, she doesn't have to work her butt out like us. (Both start humming Jash-E-Ishqa).
Does the topic of sex make you uncomfortable?
Ranveer: Hah! Not at all. Arjun talks about sex all day…
Arjun: And Ranveer has sex all day…
Love, sex, dhoka ya maar-dhaar?
Ranveer: Love — always and forever.
Arjun: Love supercedes everything. Whatever you do it will be for love. All those other emotions come because of love.
Your best pick up line?
Arjun: I am very passive in such matters so I have never used a pickup line. I can't initiate by getting into that space. I am so closed I don't allow people to enter my space and give me a pickup line.
Ranveer: Sometimes because of that chicks feel that Arjun has attitude. I have to explain that it's not that at all, he's just reserved. My favorite pickup line is 'Is that your phone in your back pocket because that ass is calling me?' That's the worst. My favourite is 'Are you tired because you have been running through my mind all day?' Or Are those space pads because your ass is out of this world!'
Arjun: He can go on the whole day!
One celebrity you lust for?
Arjun: Ek se unka kya hoga?
Ranveer: For years now it's been Beyonce.
Arjun: Mine keeps changing. First it was Adrianna Lima, then it was Jennifer Lawrence and now Rosie Huntington Whitely.
Does size matter?
Arjun: It matters what you do with it, not size.
Ranveer: I don't know because I am not into penises.
Arjun: She just meant it in a generic way.
Ranveer: Oh sorry! It's not for me to say. Ask the women.
What's on the walls of your bedroom?
Arjun: I have the posters of Scarface, Black Hawk Down, Lock Stock And Two Smoking Barrels, Pulp Fiction, Reservoir Dogs and my 80 inch TV. I will make a candid confession. My personality never allowed me to put up posters of hot women because I never thought that I would get any of them. I thought it was unfair to fantasize beyond my expectations. I never put up posters of anything besides films. I am film buff and I like memorabilia like I have the totem from Inception lying in my room.
Ranveer: My walls are naked… Nanga… Bare.
Arjun: Just like he is in his room!
Ranveer: I have plain white walls in my bedroom. I can't look at an image for too long. My brain gets garbled. The environment starts affecting me. I keep it bare. There is so much chaos in my head, life and work that I like to keep the space that I am inhabiting very sparse. I get a lot of criticism from my friends that it's too barren and emotionless and there is no warmth in it. It's like a hotel where everything is sanitised. My best friends call me a robot.
Arjun: He went to audition for Robot but Rajini sir asked him to do a lungi dance! On a serious note what Ranveer says about a hotel room makes sense to me. I love being in hotels for that reason — everything is sorted and you can just be yourself and unwind.
If you fixed a date with two women on the same night by mistake…
Arjun: I am sure Ranveer's been there and done that. Baba, confess!
Ranveer: Haan hua hai in some phases of my life. You go with the activity you have planned – whether you would rather go for dinner or watch the movies or just pick the hotter girl.
Arjun: I would take a judgement call on whom I would rather spend the night with, depending on whom I am more interested in and tell the other I will take a rain check and see her day after or tomorrow.
Your favourite colour?
Ranveer: Red and pink.
Arjun: Blue.
SEX FACTOR
Red: People who like red tend to be tigers in the sack. They are easily aroused and enjoy sex in every way imaginable. Once the sexual spark is ignited, it may take hours to extinguish. Lovers of red tend to be aggressors and weaker colors should be aware.
Pink: Persons who like pink show a reluctance to mature in sexual matters: Women tend to tease and to promise more than they intend to deliver. Men who like pink are the philanderers and flirts.
Blue: They are wonderful sex partners. They are sinners, affectionate and sensitive to their partner's needs. They consider love making a fine art and their approach is elegant. In marriage a blue person is a wonderful mate — never seeking outside interests.