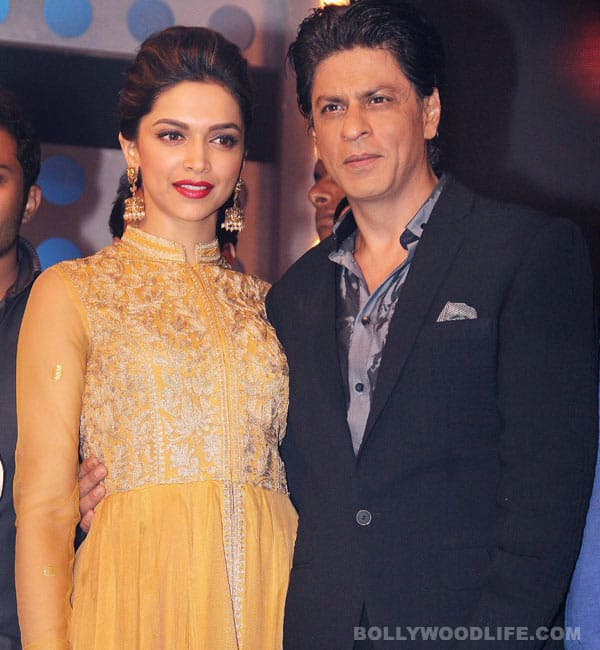 Yes, they both belong to the film fraternity and are superstars in their own respective way. But that's not the only thing common between DP and her Chennai Express co-star. Read on to know what exactly we are trying to say…
There is no denying the fact that Deepika Padukone and Shahrukh Khan supremely talented when it comes to acting. But both the actors aren't that lucky when it comes to having friends in the industry. Besides getting cash registers ringing at the box office, what's similar between Ms Padukone and SRK is that both have more enemies than friends in B-town. We all know how Salman Khan and Shahrukh were khaas dosts at one time. But today Sallu and his Karan Arjun co-star don't share friendly vibes at all. Till very recently, Gauri Khan's hubby was very close to filmmaker Karan Johar but sadly their dostana has also gone kaput. In fact, King Khan's enemies have now become good buddies. Salman and even Aamir Khan never got along with KJo till his dostana with Shahrukh was intact.
The case is somewhat similar with Ranveer Singh's alleged girlfriend too. Though in the third season she shared the controversial Koffee couch with Sonam Kapoor, today the two beauties are at loggerheads. Gone are their spa days and bitching sessions. Well, we all know what happened when Sonam came on Koffee with Karan this season, no? So it's easy to figure out that Dippy and the Kapoor lass are no longer pals. If that wasn't enough, we now hear that cold war is brewing between the Cocktail babe and Kareena Kapoor Khan. We know they were never best of friends but the two never really got catty about each other as well. Well, Deepika worked with Bebo's hubby Saif Ali Khan in three films but we aren't sure if the dimpled beauty will ever team with Saifu again. We say so coz the two ladies at the moment are competing to bag Madhur Bhandarkar's next film. In the past, KKK lost Chennai Express and Ram-Leela to Dippy but now she doesn't want any plum projects to go the dusky beauty's way. So Ranbir Kapoor's ex girlfriend is on the hate list of one more of her contemporary, hai na?
Well, it's always better to have more friends than enemies especially when you're working in Bollywood. Coz the filmi duniya is very small and you never know with whom you may end up working with, right?
PS: We won't be surprised if Sonam and Kareena come together on Koffee with Karan 5. In that case, we all know what would be the hot topic of discussion. Wink, wink!