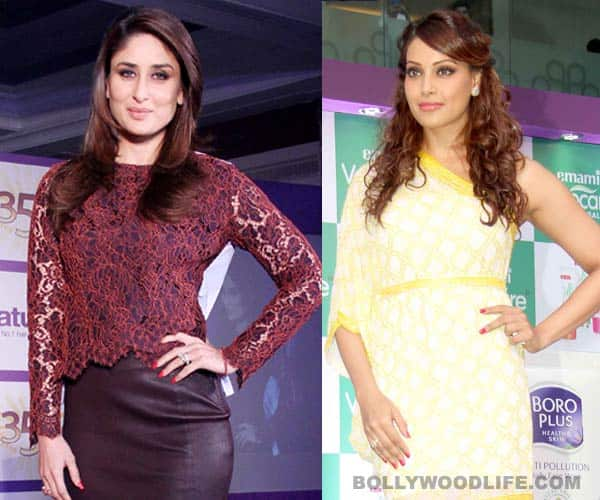 Recently these two warring starlets made peace with each other and we couldn't help but notice some similarities between them
It's a known fact that Kareena Kapoor and Bipasha Basu do not share a friendly vibe. In fact, Bebo and Bips were at loggerheads when they worked together in Ajnabee way back in 2001. However, these two starlets shocked us when they kissed and made up at the IIFA press conference recently.
But then, when we saw these two beautiful ladies together after ages, we couldn't help but notice some similarities between them. Bipasha and Kareena surely have something common these days. What, you ask? The two ladies have been keeping it quiet on the work front.
Recently Kareena was replaced in Karan Johar's Shuddhi, which has been on hold for almost two years now. So at the moment, Saifu's begum has no films in hand while her future assignments are being postponed. Bombay Samurai, her film with Dev Benegal co-starring Farhan Akhtar, is also on hold for next couple of months. Then she has Singham 2, but that's not going to start before Rohit Shetty finishes his anchoring stint on Fear Factor Khatron Ke Khiladi 5. So for now, Bebo just has a few endorsements and photo features in her kitty.
Same is the case with Bipasha. A role in a multi starrer like Humshakals and a supporting role in a big budget film like Bang Bang (starring Katrina Kaif and Hrithik Roshan), is all she has. Recently we heard that, Bips showed some interest in Siddharth P Malhotra's (director of We Are Family) upcoming production venture. But it's not confirmed, if she will do the role. Since Bips has no big film offers coming her way, the Bong bombshell decided to look out for some alternate career option by launching a fitness DVD and her own accessories line.
Anyway, now that Kareena and Bips have made peace with each other, we are sure they will hit off really well. After all, their plight is pretty much the same now, hai na?